Border-Crossing to Cambodia
From Thailand, Vietnam and Laos
Compared to Myanmar, border-crossing to Cambodia is more straightforward and with more options. Besides taking a boat trip from Ho Chi Minh City, travelers may also explore the exotic border towns and beautiful national parks traveling overland.
Important Notes before Your Trip ...
At the time of writing (23/Feb/2019), all checkpoints listed below are open for foreign travelers, some of which are also popular among locals.
Visa-on-arrival to Cambodia can be obtained at some certain checkpoints but we have reports that payment must be made in Thai Baht or Vietnamese Dong in a pretty poor exchange rate.
Cambodia is linked with southern Vietnam by the Mekong River, boat is a possible means of traveling yet tickets can be sold out fast.
Checkpoints in some remote towns may not have easy access to any sizable cities; thus we'd suggest go to some big checkpoints instead.
Way to Cambodia: Checkpoints and Transportation
Hey, let's check out Angkor Wat! For travelers on an extensive journey in Southeast Asia, such a spur of the moment happens. Good thing is that this welcoming destination has a lot of checkpoints at its borders with Thailand, Vietnam, and Laos. The following list gives out all the alternatives and ways to connect the dots.
Thailand and Cambodia have their good days and bad days, however, it never seems to hurt the fact that both of them are the most foreigner-friendly destinations in Southeast Asia. To make your way to Cambodia from Thailand, here are the possibilities.
Thailand / Cambodia
Transportation
Aranyaprathet / Poipet
Thailand side: In Eastern Thailand, Sa Kaeo Province;
From Bangkok: bus ride of 3hr to 6hr; train ride of 6hr.
Cambodia side: In Ou Chrov district, Banteay Meanchey Province;
To Siem Reap: 2 hours of bus ride
Hat Lek / Ko Kong
Thailand side: Trat Province;
From Bangkok: 1hr by air from BKK to Trat Airport and 2hr by bus to Hat Lek;
Cambodia side: Koh Kong Province (new name: Kong Island Province);
To Phnom Penh: 6hr of the road trip; 4hr road trip to Sihanoukville and fly to Phnom Penh (or Siem Reap)
Chong Chom / O Smach
Thailand side: close to Surin in Surin Province;
From Bangkok: 2hr from Bangkok airport (DMK) to Buri Ram (BFV) and 2hr drive to Chong Chom; 12hr bus ride by Bangkok Tara Travel to Chong Chom; 9hr train ride to Surin from Hua Lamphong Train Station in Bangkok and 2hr to Chong Chom.
Cambodia side: in Samraong District of Oddar Meanchey Province;
To Siem Reap: 3hr bus ride;
To Battambang: 4hr bus ride
Chong Sa Ngam / Anlong Veng
Thailand side: north of Si Saket Province;
From Bangkok: Train from Hua Lamphong of 8hr to Sikhoraphum and 2hr of driving to Anlong Veng;
Cambodia side: Oddar Meanchey Province;
No public transportation from Anlong Veng, have to take local tuk tuk ride or hitching
Ban Pakard / Phsar Prum
Thailand side: in/Northern Thailand, near Pailin of Pailin Province;
From Bangkok: bus ride of 5hrs to Chanthaburi and 2hrs to Ban Pakard; one-hour flight to Trat from Bangkok and 1hr ride to Chanthaburi before another hour of driving to Ban Pakard.
Cambodia side: in Pailin Province, close to Battambang;
To Battambang: 2hrs of driving;
To Siem Reap: 4hrs of driving
Ban Laem / Daun Lem
Only an hour from Ban Pakard / Phsar Prum Checkpoint, yet it's little used for border-crossing and we'd suggest you go with Ban Pakard / Phsar Prum.
With a Vietnam - Cambodia combo being quite popular, travelers who have been traveling from Hanoi and Sapa in the Northern Vietnam hop on the ferry boat to Phnom Penh from Ho Chi Minh City on the Mekong River. One important yet easy to neglect note is that Cambodia allows visa on arrival but Vietnamese immigration would always ask for a pre-arranged Vietnam Visa , no matter if you are leaving or entering the country. Ferry between Kep / Kampot in Cambodia and Pho Quoc Island in Vietnam is also a possible way.
Vietnam / Cambodia
Transportation
Moc Bai / Bavet
Vietnam side: In Tay Ninh Province, close to Ho Chi Minh City;
From Ho Chi Minh City: The same direction to Cu Chi Tunnels, about one hour away from Ho Chi Minh City by car.
Cambodia side: The largest city in Svay Rieng Province.
To Phnom Penh: 3 hours of bus ride.
Vinh Xuong / Kaam Samnor (by boat)
Vietnam side: In An Giang Province, close to Chau Doc;
From Ho Chi Minh City: 2hrs by bus;
Cambodia side: A small border town in Prey Veng-Kandal Province;
To Phnom Penh: ride on a slow boat or fast boat on the Mekong River from Vinh Xuong, it takes from 5 hours to 7 hours to the pier in Phnom Penh.
Tinh Bien / Phnom Den
Vietnam side: Halfway on the route Ha Tien - Chau Doc, in An Giang Province;
From Ho Chi Minh City: 6hrs of driving;
Cambodia side: In Takeo Province, close to both Kep and Kampot;
To Phnom Penh: 1 hour of driving to Takeo Station and 3hr train ride to Phnom Penh; 3hrs of driving overland to Phnom Penh.
Xa Xia / Prek Chak
Vietnam side: 70km from Ha Tien Town, in Kien Giang Province;
From Ho Chi Minh City: 1 hour by air to Rachgia Airport (VKG) from Ho Chi Minh City and take a 2-hour bus ride to Xa Xia; 6 hours direct ride from Ho Chi Minh City.
Cambodia side: Located in Kampot Province;
To Phnom Penh: Bus ride of 5 hours to Phnom Penh; Drive for 1 hour to Kampot and take a 6-hour train to Phnom Penh Train Station.
Le Thanh / O Yadao
Vietnam side: Located near to Pleiku, in Gia Lai Province in Central Vietnam;
From Pleiku: Pleiku is 3 hours away from Bounmethout that is connected to major cities in Vietnam and there is another 6-hour bus ride from Pleiku to Le Thanh.
Cambodia side: Located in the northern-most point of Cambodia, close to Ban Lung the capital of Ratanakiri Province;
To Siem Reap and Phnom Penh: as remote as it is, it will take at least 7 hours by road to reach either Siem Reap in the northwest and Phnom Penh down in the south.
This only available checkpoint links Dom Kralor of Champasak Province in the southwestern part of Laos to Veun Khan in Stung Treng Province in Northeast Cambodia. It can be difficult to get to the Lao side: firstly you need to take a flight from anywhere to Pakse and drive down for 6 hours to Dom Kralor. From Veun Kham, there is a 10-hour bus ride on the bumpy country road to Siem Reap.
Visa-on-arrival is available at both sides but scams happen quite often, especially on the Cambodia side. The best way to avoid being ripped off is to take the airway.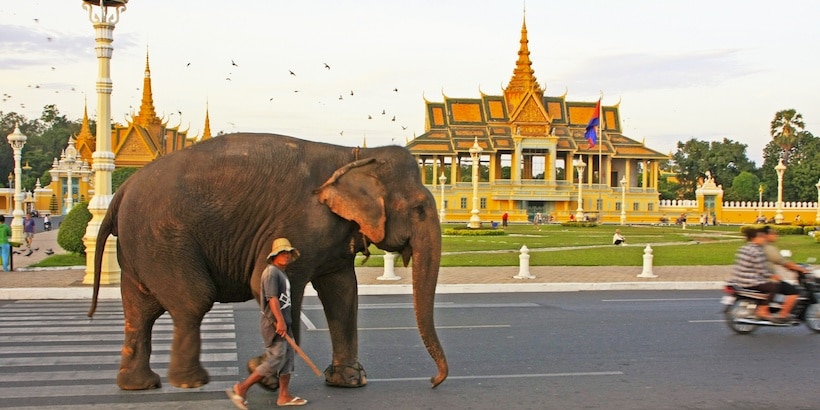 Gatsby's Travel Tips
Mostly travelers jump across the borders without any problem given good preparation. Here are our first-hand tips helping you get ready:
Get your visa ready:
Although border-crossers are offered visa-on-arrival at most checkpoints, we still hear some cases going south or ending up getting ripped off (Sadly, ripping-off and bribery still set the main tone for Cambodian immigration). Having a valid visa for Cambodia really sets your mind at ease. It can be applied as tourist eVisa (eVisa for Cambodia) at USD37 (USD7 is for processing).
For more information on Cambodia Visas, please check Visas for Cambodia.
Single-entry or multiple-entry?
Cambodia visa that is obtained at the checkpoint allows only single entry for a tourist visa; multiple entries for a business visa. The same story with a Vietnam visa: once you are out of the country, a new visa must be obtained for re-entry to Vietnam. Not such a problem in Thailand and Laos, as they offer visa exemption for many nationalities.

Boat ride on the Mekong River from Vietnam

:
Going upstream on the Mekong River to Phnom Penh from Ho Chi Minh City is subject to the water flow, meaning that duration varies from only 5 hours to up to 8 hours. A speedboat guarantees for 6 hours but the ride can be pretty tough due to the bone-cutting wind. Visa check is required at both side, each of which takes about one hour with a change of boat. You need to do loading and uploading at least once; better to have all your important documents and belongings with you at all times.
Road trip to Cambodia from Vietnam:
A bus ride of 8 hours is also an option. Early morning buses leave before 1000am and afternoon ones leave between 0100pm - 0300pm. We'd suggest early morning departure that allows you flexibility in case of road breakdowns, delays or long lines at the immigration. Bus tickets can be purchased online pre-travel or at any guesthouse/hotel/bus station; make sure you have your ticket at least one hour before departure.
Regular buses are pretty shabby, hard seats, broken A/C. limited space and some smell funny. We'd suggest VIP buses with only a bit surcharge; reliable companies include Mekong Express and Giant Ibis.

Vietnam to Cambodia by Sea


If you are traveling in the southern part of Cambodia, border-crossing by sea is also possible. Take a ferry from Kep / Kampot to Phu Quoc Island; Phu Quoc Island is the only destination in Vietnam that allows entry without a visa.
Get charged for nothing:
It has been reported that foreign travelers, especially solo ones, seem to be easy prey for the immigration officers who want to make some extra pocket money. They will ask for USD1 to USD5 for "special assistance" or "something wrong with your passport", which is mostly nonsense. Asking for a receipt or meeting their supervisors wouldn't help, sadly. What we suggest, in the best hope, is following another bunch of tourists and ignoring the officers' "hello hello, one dollar". Such incidents are more frequent on the borders of Thailand and southern Vietnam than in Laos.
Also, do not ask or accept any "assistance" from anybody approaching you if you don't want to shell out your money.
Start Planning Your Trip to Cambodia
Contact an expert in Cambodia that will support you 1-1 from the initial chat, itinerary design, and even on the trip.