Here's our best advice on planning a Myanmar trip. We've been exploring and building a team throughout Myanmar for years, from Myanmar's remote mountain villages to the colonial quarter of Yangon.
Burmese people are genuinely friendly, honest, and have contagious warm smiles.
Myanmar (previously Burma) is refreshingly unspoiled, it's culture and archeological sights are relatively untouched by the outside world.
Breathtaking historical sights, such as 3000 ancient temples and stupas jetting out of Bagan's trees and scrub landscape at sunset.
Explore Lake Inle by longboat, from leg-propelled fishermen, a floating farm, and local life in the villages on stilts, while enjoying the cooler climate at 1000m.
Fascinating roads-less-traveled to Myanmar's hill tribes, with unique hiking and tribal portrait photography.
Buddhism is an integral part of everyday life, not just for the Monks, Nuns, and Novices, you'll see its effect on everyday life everywhere.
How to Plan a Myanmar Trip
Myanmar offers travelers some amazing experiences, such as ballooning. No matter if you're in the basket or on the ground, watching the hot air balloons drifting over miles of ancient Bagan temples at dawn has become one of the top things to do in Myanmar; it's now an iconic image of Burma.
If you enjoy hiking, then an adventure through tribal areas around the colonial hill station of Kalaw or in the tattoo tribal areas around Mount Victoria could be for you. Or Watch the sun go down by private boat at U-Bein Bridge, silhouetted against the evening sky is a highlight of Mandalay. While slow travelers and cruise lovers might enjoy the unique journey along the Irrawaddy River between Bagan and Mandalay. If you're traveling with kids, read our guide on how to plan a family trip to Myanmar.
Top Things to Do in Myanmar
Capture Amazing Shots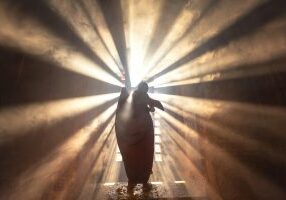 Fly Over Bagan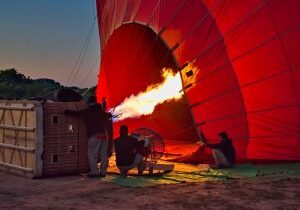 Meet Remote Tribes
Finally, do not skip Inle, at 1000m Inle's cooler climate is a welcome break from the heat, so sit back and relax as our guide and boat team take you between villages, leg-propelled fishing areas, temples and restaurants on stilts, all from the comfort of our private deluxe teak powerboats. It's just you, our guide, and an amazing water world to explore at your leisure.
Myanmar borders China to its north, India and Bangladesh to its west and Thailand and Laos to its east.
Time Zone: UTC +7
Population: 60 million
Capital: Naypyidaw, but the old capital Yangon (formerly called Rangoon) is the largest city in Myanmar.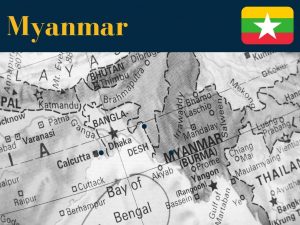 Option 1. Fly to Yangon
The most popular arrival airport is Yangon (formerly Rangoon). 80% of our guests fly into Yangon, the airport code is RGN.  You will need to connect through a major hub like Bangkok, Thailand, Singapore, or Hong Kong. Yangon offers the most connections Vs Mandalay, which is important if you have flight delays.
Yangon is more than just capital, the famous Shwedagon Pagoda and the colonial quarter are worth a full day, or two half days exploration, at least! So it's perfect for an arrival and departure city, a place to recover from jetlag, a night to factor in possible internal flight delays, caused by the misty morning weather.
| USA | UK | CHINA | HK | THAILAND | AUS. |
| --- | --- | --- | --- | --- | --- |
| 22 hrs | 15 hrs | 8 hrs | 3 hrs | 2 hrs | 12 hrs |
Option 2. Fly to Mandalay
If you're linking a trip to another Asian destination, Mandalay could be a good gateway choice, but there you should be aware of some downsides to flying into Mandalay. Mandalay airport has few international flights and almost no international airlines offer flights here. Most travelers who use Mandalay as a gateway do so as part of a larger Asia trip. Typically travelers buy a return ticket from their home country to say Thailand, for example. Then buy a local airline ticket within Asia on carriers like China Southern to Yunnan China, or on AirAsia from Thailand over to Myanmar.
Best Time to Visit Myanmar
You may be wondering when is the best time to visit Myanmar, the short answer is anytime from Nov to April, but the months of Dec to Feb are the absolute sweet spot for those looking for the least rain and a slightly cooler day. However, anytime can be amazing. Our team training was in September and we had a great time, we also run a join in group trip each year the first week of October, and the weather has always been great. So don't feel too restricted by 'the best time'. Here's more on Myanmar Weather.
Scroll down and read 'Your burning questions' section for some inside advice on seasons, such as the wet, dry, as well as high and low tourism times. our in-depth month by month guide on the Best Time to Visit Myanmar. Be sure to also read about Myanmar Festivals, and see if you can plan your trip to Myanmar to sync with one!
We recommend you spend at least 10-12 days in Myanmar, so you can visit the former royal capital Mandalay, enjoy the cooler area of Inle Lake by boat at 1000 meters, fly in a balloon over ancient ruins of Bagan at sunrise, and finish in the cultural hub and formal colonial streets of and largest city Yangon. You can read more on the recommend time required to visit Myanmar here: How Long do you need to Visit Myanmar?
Myanmar Weather
Myanmar (Burma) is a tropical monsoon climate in South East Asia. You could divide its weather into these four key seasons:
Dry Season: October to May
Wet Season: June and October
Hot Season:  March to June (40°C +)
Cool Season: Nov to Feb
Tourism Seasons
High Season: Nov to Feb
The high season starts in November and ends in late February, and accommodation is often in short supply.
This is high-season because of the relatively cool weather and little rain. So 
the land is dry and dusty, and the fields are therefore not as green as Summer.
Low Season: March to October
Visiting Myanmar outside the high season is also well worth considering. There are fewer tourists, more availability of accommodation, not to mention better rates. Rain is typically not for the whole day.
Read our detailed guide to each month's festivals and the weather here >
US, UK, Canada, Australia, and most other western countries need a Myanmar visa. The good news, it's easy, and most countries citizens can apply for an eVisa on the official government website for $50 USD. Here's a useful guide on how to get a Myanmar Visa.
Flying to Yangon or Mandalay is the best way to get to Myanmar.
You'll first need to fly into an Asian hub and transit. Popular transit airports are Bangkok, Singapore, Hong Kong, Kuala Lumpur, even Cambodia (Phnom Penh, Siem Reap) or Vietnam (Hanoi, Ho Chi Minh City).  All of these cities have flight connections to Yangon.
Bangkok is the most popular hub; it has over 20 flights per day. The flight time is under 2 hours. This is ideal if your flight was delayed or you missed a connection, as you're never too far away from the next departure.
So you could also plan a night or two in Bangkok or Hong Kong on your arrival or departure.
Read more advice on where to start your Myanmar trip and how to get to Myanmar. 
Take a flight.
Domestic Flights
Myanmar domestic flight schedules can change with little to no notice. If traveling with our team, our office and your guide will be monitoring and confirming your flight the day before your departure. You can just relax and enjoy the trip.
Intercity Buses
Buses are old and overcrowded. It can easily take 8-10 hours to get between key cities like Bagan and Yangon. We don't recommend the bus, especially if time is short.
Visiting Myanmar is safe?
Yes. The UK Foreign Office site is an excellent resource for travel advice. It last updated in September 2018, and advises us the majority of the country is safe, except risks in Rakhine state where it reports instances of burning and looting of property.  "political tension and unrest could happen at short notice" in that region, so it advises against all but essential travel in much of that region. Again we are talking about the Rakhine state and Shan and Kachin states to the northeast, which is very far from where we visit and all reports are the situation is now much calmer.
Is it ethical to visit Myanmar?
A pressing concern for some traveling to Myanmar is related to the past refugee crisis; travelers ask if their money is in any way funding the military.
No. Your money will directly pay our local team,  and a lovely family logistics company that provides our car services.
The hotels we visit are owned and run by local Burmese, they are not government or military owned.
The locals have struggled because of the drop in tourists from 2016 to 2017, and it's now recovered dramatically. The local tourism board expects 2019 to be much better now.
Tipping is not required but it's a nice gesture, especially with service staff such as taxi drivers, hotel staff, restaurants if the staff were particularly attentive, tour guides and drivers. Read our guide to tipping in Myanmar.
Our team's knowledge and relationships with archeological department contacts mean we can open doors for photographers to locked temples, temples tourists don't reach. We have relationships with the government and will obtain a photography permit. We meet the monastery headmaster and meet parents to obtain permission, and after much arrangements are in place, we can arrange such shoots for a day.
Top Destinations in Myanmar
Start Planning Your Trip to Myanmar
Contact an expert in Myanmar that will support you 1-1 from the initial chat, itinerary design, and even on the trip.
Suggested Tour Itineraries
Our recommended Myanmar itineraries are designed to inspire you, to show you what's possible, and give you a head start in planning your own unique trip to Myanmar with us. Here are some recommended Myanmar itineraries and tour routes, including some insider tips to consider.
Start Planning Your Trip to Myanmar
Contact an expert in Myanmar that will support you 1-1 from the initial chat, itinerary design, and even on the trip.