The view and the balloon flight experience can be phenomenally impressive. ,but is it worth it? What's it like? How do you book? Here are the answer all your questions.
Why You'll Love the Ride
See the land that is totally forgotten by time: no skyscrapers, no antennas, no electricity wires.
Thousands of pagodas standing in the morning mist while colorful balloons float up quietly, making yourself a part of the marvel.
Limited operation seasons and limited seats, only for a few lucky ones up to the adventure.
Professional piloting and operating guarantees a safe ride.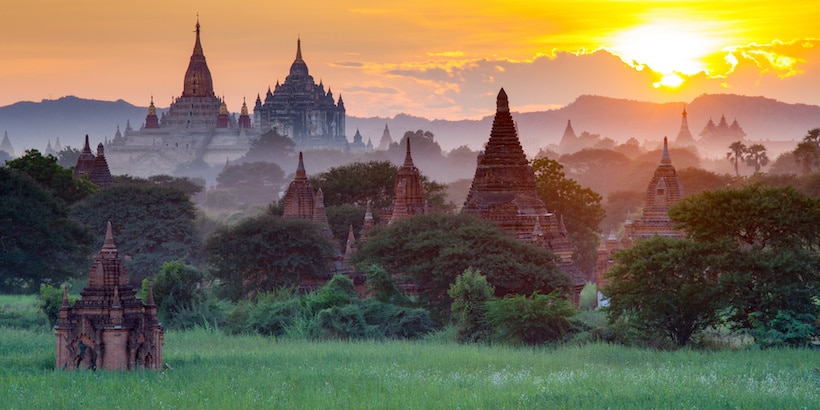 What's It Like: Transfer, Launch, Flight and Return to Hotel
There are some world-famous balloon flights that could entirely enhance your travel experience to a totally new level. Balloon flight in Bagan is one of them. Before soaring up to the sky, you should probably learn about the drill.
A detailed typical schedule for the balloon flight morning, although the pickup time does vary a little with the hotel location...
05:20 Pickup Time


A shuttle bus/mini van of the balloon company will pick you up from your hotel. Transfer to the launching site, which will take 20 to 40 minutes to collect all travelers from different hotels before arriving at the launch site.

0550 Launch Site Arrival


Arrive at the launch site. The site changes every day due to weather condition. Normally it will be at the upwind point of that day inside the archaeological zone, where you will see the crew is getting ready for the flight.

0600 Preparation & Safety Conduction


After checking everybody's booking voucher again, preparation is under way. You will be served with some coffee, drinks, and simple snacks while your balloon is being inflated.
Get introduced to your pilot and he will explain how it works and things to note during the ride. The whole preparation takes about 20 to 30 minutes.

0630 Board & Launch


The crew will help you board the balloon one by one to your designated seat. Buckle up and get ready for the launch. During the launch, everybody needs to stay still in sitting position.
Once the balloon is successfully lifted up to the air, passengers can stand up and move around but the pilot will likely instruct you not to stand on one side of the basket in order to keep the balance. The whole launch process goes on for around 15 to 20 minutes.

0645 Flying


Enjoy the ride with continuous "wow" along the way. The entire ride lasts for 30 to 40 minutes, depending on the windspeed.

0730 Landing & Return


The balloon will slowly descend while the sun rises up. The same as the launch site, the landing point is not pre-designated either. Sometimes the balloon will land on the farm land, in the village or by the river.
Once landed, the pilot will contact the crew back at the launch base and then a team of local Burmese will come to the landing site. They will gather up the equipment after you get off and transfer you back to the base.

0800 Celebration


The party isn't over yet. When you are back to where you started, a celebration awaits. You will be given a certificate of flight and a photo of you inside the basket. Raise your glass to celebrate your safe return. Some simple snacks and drinks will also be served.
The balloon company's car will escort you back to the hotel.
(* Operation season: from mid-October to the end of March; specific daily operation is subject to change without beforehand notice.)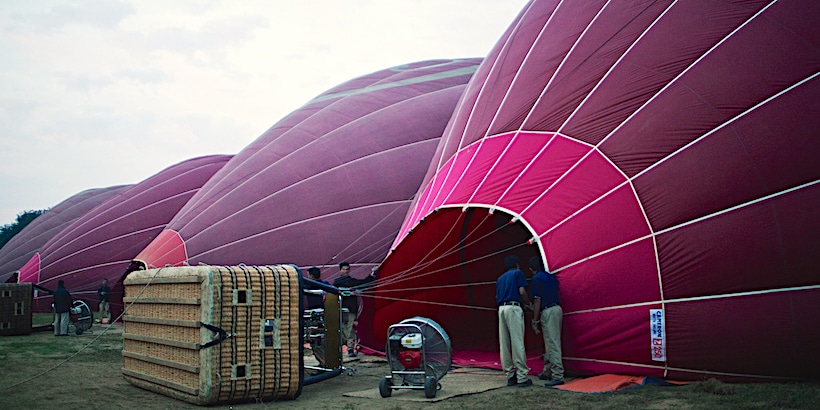 How to Book: A Choice of 3 Balloon Companies
Currently there are three companies in Bagan that operate regular flights during October to March (some is available till May but we wouldn't recommend that time because the chance of cancellation in case of rainy days is much higher). Each of them classifies their balloons by different seatings and charges accordingly:
Balloons Over Bagan - Red Balloons
Classic Flight: USD330/person - 12 to 16 passengers per basket
Premium Flight: USD290/person - max 8 passengers per basket
(*Surcharge of USD10/person during Christmas and New Year for both classes)
Oriental Ballooning - Green Balloons
Only Premium Flight available at USD395/person - 4 to 12 passengers per basket
Golden Eagle Ballooning - Yellow Balloons
Standard Flight: USD320/person - max 12 passengers per basket
Premium Flight: USD380/person - max 8 passengers per basket
The fee includes pickup and drop-off transfer between the site and your hotel; drinks and simple snacks before and after the flight; safety briefing from the pilot; a balloon flight that lasts for 30 to 45 minutes; celebration with light champagne served; flight certificate.
Which Balloon Company is Best?
Now you probably want to ask which balloon company is best, which to choose? If you are celebrating a special event, say anniversary, a premium flight might get you more intimacy and you have more room to move around inside the basket. Also, Golden Eagle Ballooning has more and newer balloons than the other two, which can be a nice backup plan if the other two are sold out.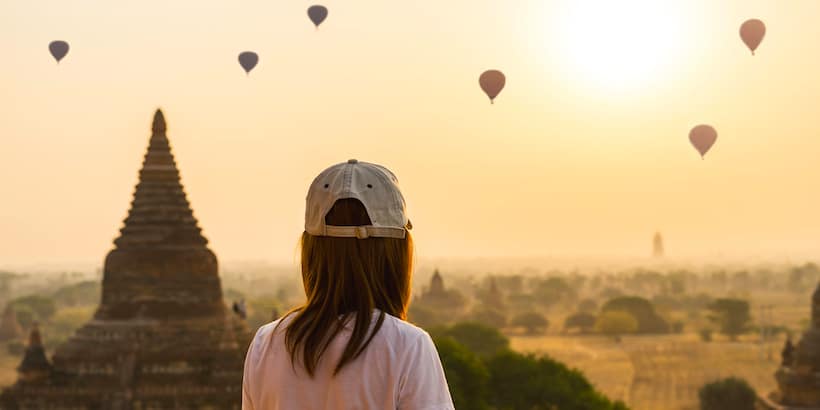 Your Burning Questions about the Ride
Certainly, spending hundreds of bucks at one time is not a light move to take. Scroll down and get the answers to all these burning questions and maybe they will help you decide.


Is it safe to do the flight?
Yes, the flight is perfectly safe. All three companies in operation are abided by international ballooning standards with all pilots certified by UK license companies and the balloons are under regular checking and maintenance conducted by a professional team.
Besides the tech support, the weather condition during the ballooning season is also suitable and seldom windy or rainy (in which case the flight will be cancelled).
Where and how can I book the ride?
You may book directly through the company's website or an agent. The balloon companies take payment by credit card and their rates to the agents are the same as published.
How long ahead should I book the ride?
As super-hyped as it is, balloon flight is always short of availability during the peak season. Hence, it's smarter to book at least three months ahead.
What's the cancellation policy?
Cancellation policy differs but mostly they will charge a fee of 20% for cancellation made via email/fax 7 to 60 days ahead of the flight date and other details can be found on their websites.
The companies hold the right to cancel the flight on the spot due to bad weather condition without beforehand notice. In that case, guests may change the date or ask for refund if possible.
Booking via any agent follows the same policy to the companies accordingly.
Will I get my money back if the ride is cancelled due to weather condition?
In most cases, they will likely change the flight date instead of refunding and that is only under severely bad weather condition such as rain, strong wind or other unpredictable scenarios.
Is there any restrictions for passengers?
For safety reasons, passengers who weigh over 200kg / 441lb, aged above 70 years old or under 6 years are not advised for the ride. Different details can be found on their websites.
Any discount for children/senior/groups?
No.
I have done ballooning in other countries, why does Myanmar cost so much?
Every piece of equipment is imported from other countries and all pilots are foreigners with years of professional ballooning experiences. Also, locals are hired to retreat the balloon after the flight. This is all counted as the cost for every flight, thus the high price.
Is Bagan the only place in Myanmar that I can do ballooning?
No. The company Balloons Over Bagan also flies over Inle Lake and Ngapali Beach in different seasons. Other two companies only operate in Bagan.
Instead of the balloon flight, can I fly my drone over Bagan?
Burmese government has yet to release any regulations on private drone flights so the answer remains uncertain. For political and safety reasons, we wouldn't suggest you risk that.
Can I take a flight at sunset?
Not really. All flights are in the early morning when the wind and light seem more stable for ballooning.
Can I bring my camera gear onto the balloon?
Yes it's possible but be aware that movement during the flight makes it hard to capture anything even if you set the camera on a tripod; and you might probably need a long lens to do it, too.
Other options for the morning except for the balloon ride?
Besides the flight, you can also go for a morning view at one of the pagodas or capture the photos of balloons floating up the sky.
A trip to Myanmar is meant to be epic. A balloon flight does boost the experience up and most of our past guests who took the ride are glad with their decisions. Still, different stokes for different folks. Bagan has so much to offer and we can come up with more ideas to make it epic. Talk to our team and find out more!
Start Planning Your Trip to Myanmar
Contact an expert in Myanmar that will support you 1-1 from the initial chat, itinerary design, and even on the trip.