Enter Cambodia from Vietnam
Things you need to know before entering Cambodia from Vietnam
Vietnam - Cambodia is always a nice combo. How to enter Cambodia from different regions of Vietnam, get our exclusive guide and tips here.
Border-Crossing into Cambodia ...
The southern part of Cambodia is largely connected with Vietnam's central and southern regions, making Phnom Penh, Bavet, and Kaam Samnor the primary checkpoints for foreign travelers.
Visa-on-arrival and e-Visa are both available for border-crossing yet we would suggest you obtain your visa beforehand.
Travelers can choose from overland buses or speedboats in the Mekong Delta, a 6-hour journey is expected, latter of which is pretty much subject to the seasons, duration-wise.
For those who plan on a Vietnam - Siem Reap - Vietnam trip, a pre-arranged multi-entry visa for Vietnam is strongly advised.
From Different Regions of Vietnam
In our Border-Crossing to Cambodia, general information for the five checkpoints that the two countries share is offered, scroll down to find more detailed guide for entering Cambodia from different regions of Vietnam. All information is updated recently (11/March/2019).
From Southern Vietnam: Bavet and Kaam Samnor Checkpoints
As rare as it happens, only a few travelers would make their way to Cambodia from the northern parts of Vietnam. The easiest possible way is to fly down to Pleiku of Gia Lai Province in Central Vietnam and take a 6-hour ride to the Le Thanh / O Yadao checkpoint. Same case for traveling from the central part of Vietnam, such as Hoi An, Hue, Danang, and Nha Trang (bus ride of 5 hours).
This checkpoint is located in the northern-most point of Cambodia, close to Ban Lung the capital of Ratanakiri Province. From here, a 7-hour bus ride to Phnom Penh or Siem Reap is needed.
Quick Guide:
Duration: 13 to 16 hours in total
Costing: Approximately USD70 to 90 per person (airfare from USD60 plus bus ticket from USD10)
Visa: Le Thanh / O Yadao is the least-used checkpoint, visa-on-arrival for Cambodia is possible but we'd still suggest you obtain visa for Cambodia beforehand.
Recommended: 3 / 5
Gatsby's Tips:
When you are in Pleiku, you need to look for yellow buses that go to Duc Co, a town 60k west of Pleiku, and 20K east of the border Le Thanh. These buses leave at 7am, 9am, and 11am and there are also mini buses that leave every 20 minutes.
From Southern Vietnam: Bavet and Kaam Samnor Checkpoints
Moc Bai (Vietnam) to Bavet (Cambodia) and Vinh Xuong (Vietnam) to Kaam Samnor (Cambodia), and Tinh Bien (Vietnam) to Phnom Den (Cambodia) are quiet popular among border-crossing travelers for many reasons: easy access, various transportation options and reasonable costing, plus unique experiences along the way.
Bavet Checkpoint: 6 to 8 hours
- Recommended: 5 / 5
- Get there: 1-hour by car from Ho Chi Minh City.
- From there: 3 hours to Phnom Penh by car.
- Transportation: overland bus
- Costing: USD20 to 40 per person
- Gatsby's Tips: 1. Visa-on-arrival for Vietnam is NOT available at Bavet. 2. Most buses depart from Pham Ngu Lao area in Ho Chi Minh City.


Kaam Samnor Checkpoint: 6 to 10 hours
- Recommended: 4 / 5
- Get there: 1-hour drive from Chau Doc; or 2-hour drive from Ho Chi Minh City.
- From there: 3-hour boat to Phnom Penh.
- Transportation: boat
- Costing: USD30 to 50
- Gatsby's Tip: Most boats depart in daytime, we'd suggest a night before border-crossing.


Phnom Den Checkpoint: 8 to 12 hours
- Recommended: 3 / 5
- Get there: 6-hour drive from Ho Chi Minh City.
- From there: or 3-hour drive to Phnom Penh; or 1-hour driving to Takeo, from where you can take a 3-hour train ride to Phnom Penh.
- Costing: USD20 to 40
- Gatsby's Tip: A new road from Phnom Den to Kampot offers amazing views for a 2-hour drive.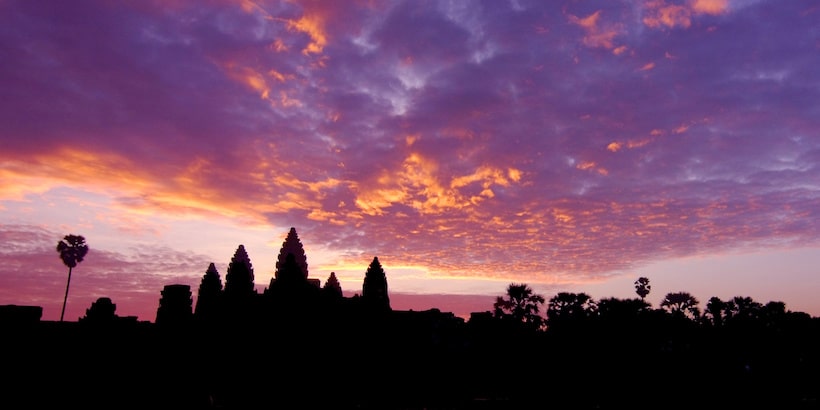 Gatsby's Travel Tips
We have gathered some insider tips from our previous guests and our own experiences. These heads-up help you travel trouble-freely. You can always contact us for more information or further assistance.
Visa-free entry to Cambodia?
Passport holders from most western countries are required to apply for Cambodia visa. Nationalities from Brunei (stay of up to 14 days), Indonesia, Laos, Malaysia, Philippines (stay of up to 21 days), Seychelles (stay of up to 14 days), Singapore, Thailand (stay of up to 14 days), and Vietnam are offered a visa exemption policy, which is valid for stay of 14 to 30 days. Once overstayed, one should apply for visa extension or a new visa.
Do I need to pre-book my bus tickets?
No. It's fairly easy to catch a bus on the spot. Depending on your starting points and types of buses, prices range from USD3 to USD10 per person.
How do I choose the buses both in Vietnam and Cambodia?
There are some pretty decent bus companies in both countries: Mekong Express and Giant Ibis for both Vietnam and Cambodia routes, Bayon VIP, Seila Angkor Khmer, Mey Hong Transport, Seila Angkor Khmer, and Virak Buntham (owns more buses than the other companies).
We'd suggest you choose early-departing buses to avoid any potential hassle on the way, such as road blocks, delays, or even long line at the immigration.
Can I rent a private transfer to cross the border?
Yes it's possible but greater chance is that you need to cover the border-crossing fees for the vehicle and the driver.
What kind of currency is acceptable at the checkpoints?
Vietnamese Dong, Cambodia Riel and U.S Dollar are all accepted. It's been reported that some checkpoints only accept unripped and new U.S Dollar bills so it wouldn't hurt to have some small notes in hand. Money exchange shops near the checkpoints give poor exchange rates, better to stay away.
Any safety notes for border-crossing?
Immigration officers on both Vietnam and Cambodia sides are known for bribery; they will ask for some "tips" for "some problems with your passport/visa". Solo travelers are always their easiest preys. A better way to stay away is ignoring or following a bigger group.
Always settle on the prices first before getting into a private car or taxi. And always keep an eye on your belongings, especially after you clear the immigration and ready to board another bus.
Any latest updates or suggestions are always welcome.
Start Planning Your Trip to Cambodia
Contact an expert in Cambodia that will support you 1-1 from the initial chat, itinerary design, and even on the trip.