Getting to Cambodia from Myanmar
From Bagan to Angkor Wat or vice versa
Have yourself an adventure to the two amazing countries in Southeast Asia, but, which should you visit first? How to connect and by what means? Find out all you need to know here.
Visit Myanmar First? Here's Why ...
Both countries are accessible from Thailand that is connected with major international hubs, Bangkok has shorter flights to Myanmar, an easy kick start.
Cambodia is much more visited and easier to get in and out, which should be the relatively easier leg of your Asia adventure.
More destinations in Myanmar and you'd want to invest more time and energy there, too.
Cambodia's accommodation comes with lower prices, more relaxing atmosphere, and better value, composing an ideal finish-up.
Getting to Cambodia from Myanmar or Vice Versa
If you haven't decided which country to visit first, that's okay and hopefully our experience sheds some light. Regarding the mission of connecting the two countries, transportation and visas are the major issues that you need to sort out.
Transportation: Flight or Overland Border-Crossing via Thailand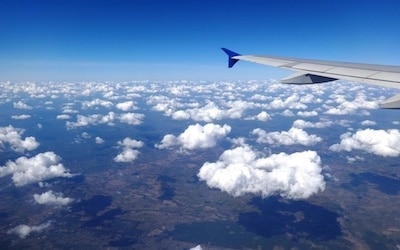 1. Fly from Myanmar to Cambodia
Siem Reap and Phnom Penh in Cambodia and Myanmar's Yangon and Mandalay are the primary international hubs. However, only Yangon and Phnom Penh are connected by a daily direct flight.
If you have no trouble with a 2-hour transit at the same airport without re-check in your luggage, more options are offered for routes stopping over in Bangkok, Kunming, Singapore or Ho Chi Minh City. Be noted that transit in the third country will require a transit visa; policy varies for different countries and passport holders. Bangkok with its two international airports (BKK and DMK) is the best bet for transit, thanks to its visa expemtion policy for most western travelers.
Most-Used Flight Schedule (* Updated on 17/03/2019 )
Itinerary
Time
Service
Duration
Yangon to Phnom Penh
EK388@1815 - 2045
Daily
2hrs
Yangon to Phnom Penh via Bangkok
Bangkok Airways@1030 - 1445
Daily
3h45min including 1hr transit at BKK
Air Asia@1735 - 2140
Daily
3h35min including 1hr transit at DMK
Yangon to Siem Reap via Bangkok
Bangkok Airways@1030 - 1445
Daily
3h45min including 1hr transit at BKK
Yangon to Siem Reap via Ho Chi Minh City
Vietnam Airlines@1210 - 1730
Daily
4h50min including 1h10min at SGN
Yangon to Siem Reap via Ho Chi Minh City
Vietnam Airlines@1210 - 1730
Daily
4h50min including 1h10min at SGN
2. Overland Travel: Combine Thailand in Between
Normally we wouldn't suggest travelers go with the overland option as it takes at least two days to get to Cambodia. That being said, the road trip mixing up with train, car, and bus rides can be quite an adventure. You may contact an agent specializing at border-crossing transfer or talk to us to plan out a right route.
Visa Formalities: Visa on Arrival, E-Visa, and Thai Visa
1. Visa on Arrival: Straightforward and Quick
Entering Cambodia by air or overland, travelers can apply for a visa on arrival at the airports/checkpoints. Going vice versa, visa on arrival is also possible at the airports of Yangon and Mandalay. Tourist visa for Cambodia allows a single-entry stay of up to 30 days; Myanmar visa allows 28 days of stay and extendable.
2. E-Visa: Get Visa Approval Letters in Advance
Another option is getting visa approval letters online, aka the e-Visa. Available for both countries. It will be used at the immigration to get your passport stamped. The online application will require credit card payment; the payment is non-refundable. One can get the approval letter within 1 - 3 working days.
For more details, please refer to our articles Visas for Cambodia and Myanmar Visa Guide.
3. Thailand Visa: Visa-Free for Most Nationalities
Thailand holds a visa-free policy to most western countries, which decreases the barriers of crossing Thailand between Myanmar and Cambodia. That being said, travelers should also opt to go through immigration either at the airport or checkpoint.
For those who are required to obtain a visa for Thailand, visa on arrival is the primary option. Whether or not does one need a transit visa while traveling by air totally depends on the airline in use:
visa is not needed if you are traveling on one ticket, one PNR, and luggage is directly transferred to the destination. Otherwise, claim and re-check in luggage, and reboarding the flight will require going through immigration and getting a tourist or transit visa for Thailand.
Start Planning Your Trip to Cambodia
Contact an expert in Cambodia that will support you 1-1 from the initial chat, itinerary design, and even on the trip.