Getting to Siem Reap from Phnom Penh
4 ways to go and which is the best for you?
Have yourself an adventure to the two amazing countries in Southeast Asia, but, which should you visit first? How to connect and by what means? Find out all you need to know here.
Basic Information ...
The direct overland distance between Phnom Penh and Siem Reap is 315km/196mi, crossing the country from the southeast to the northwest.
Flying is highly recommended during the rainy season, when onland travel can be compromised by many factors.
Boats that run between the two destinations are only operated during the wet season: from July to next March when the water levels are higher.
Despite all the rumors of unpleasant road conditions in Cambodia, the span between Phnom Penh and Siem Reap is in pretty good shape. Recently upgraded for better rides.
From Phnom Penh to Siem Reap & Vice Versa: 4 Ways to Go
Cambodia is one of the earliest countries that have seen foreign faces around its glittering pagodas and busy streets. Transportation infrastructure always enjoys the nation's favor in investment, especially the part between the capital and Siem Reap. To travel between these two, you are provided 4 options: Fly, bus, private car and boat ride.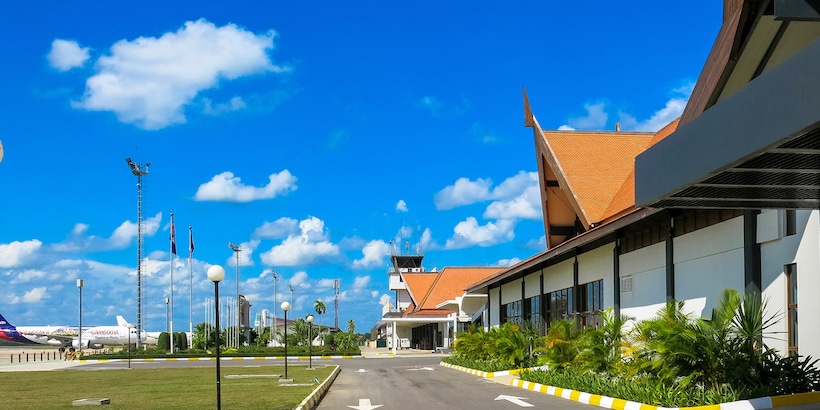 1. Fly: Within 2 Hours & Good for Everybody
The airway distance between the two cities is 231km/144mi, taking about 45 minutes to one hour on a direct flight. There are daily services operated by domestic airline companies such as Cambodia Angkor Air, Lanmei Airline, Cambodia JC Airlines and Cambodia Airways, as well as a German company Hahn Air Lines. Schedule for daily flights is as follows (* Updated on 30/Mar/2019):
| Airline Company | Itinerary | Duration | Aircraft |
| --- | --- | --- | --- |
| Cambodia Airways | KR801 0910 - 1000 | 50min | AirBus 319 |
| Cambodia Angkor Air | K6105 1005 - 1100 | 45min | ATR72 |
| Cambodia Angkor Air | K6109 1345 - 1445 | 60min | ATR72 |
| Lanmei Airlines | LQ671 1455 - 1545 | 50min | AirBus 320 |
| Cambodia Angkor Air | K67111 1605 - 1650 or 1800 - 1850 | 50min | ATR72 |
2. Bus: Rides to Fit Every Budget
The overland journey from the capital to the wonder of Angkor can be done between 8 to 12 hours, depending on the types of buses. This can be a good option for those who are not a big fan of security checks and boarding procedures at the airport. For better views, safety and comfort, we'd recommend full-sized buses over mini-buses and direct ones over multi-destination ones.
All bus companies operate daily services but Giant Ibis and Mekong Express are the best ones. They have more and newer buses, strict safety standards, less stops en route and their bus stations are close to major areas in both cities.
Giant Ibis has overnight buses and all their coaches are more international luxury ones with better facilities. Mekong Express has faster buses, running for 5 to 6 hours, and less-crowded due to the the slightly higher prices of USD12 to USD15, which is double than the locals' favorite of USD5 to 7. Of course, those USD6 buses are also optional if you mind stopping for several times during a 10-hour journey.
Service schedule of Giant Ibis and Mekong Express:
Bus Company
Timetable
Stations
Price
Giant Ibis
Phnom Penh to Siem Reap: 0845am, 0945am, 1230pm, 1100pm, 1130pm
Phnom Penh: Riverside Street 68;
Siem Reap: 34 Sivatha Blvd Krong
USD15
Mekong Express
Phnom Penh to Siem Reap: 0730am, 0830am, 1230pm, 0225pm, 0530pm for VIP bus and 1130pm for night bus)
Phnom Penh: Street Oknha Tep Phan (182) corner St.111, In front of Orussey Market
Siem Reap: #14 St. Siwatha Blvd, In front of Sokimex Gas Station
USD12
3.Private Car: Stop Wherever & Whenever
Hiring a private driver and car could be a much better way to go for smaller groups of 2 to 3 persons. This road trip could be very scenic and less-hassled: set out whenever you want, make stops whenever and wherever, and chances to discover the laid-back villages along the way.
One concern, however, might be the price and drivers who don't usually speak English. Cambodia Private Taxi is a company who offers decent services with English-speaking drivers, price starts from USD80/car/day excluding toll fees and gas. The road condition is ideal for driving at 40km/h and you will probably get to Siem Reap before sunset.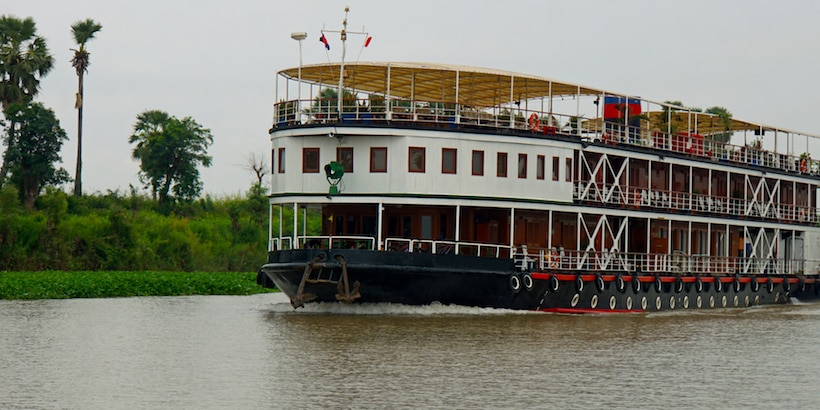 4.Boat: A Scenic Long Journey during the Rainy Season
Boat ride from Phnom Penh to Siem Reap on the Tonle Sap River is one special feature during the rainy season, which is also the less popular time for foreign travelers. Boats are operated only during July to next March as the water levels rise higher. Unlike buses, boats depart only one time a day in the early morning. The whole ride will be about 8 hours and scenery is superb, making up the lack of leisure and cozy treatments on-board. No pre-designated seats and travelers can sit on the sundeck (sunblock and hat are needed!) or inside the cabin. Some simple food and drinks are provided; toilets on-board are western-style but can be a tad dirty.
Most boats offer very basic facilities while Tara River Boats and Mekong Explore boast for the slightly better services; prices are around USD35 per person. Pier information: Phnom Penh Pier is at Sisowath Quay Boulevard, which is the Riverfront near Street 104; Siem Reap pier is near Chong Khneas Floating Village by the Tonle Sap Lake, which is 40-minute to the town by car.
Start Planning Your Trip to Cambodia
Contact an expert in Cambodia that will support you 1-1 from the initial chat, itinerary design, and even on the trip.