How to Get around in Cambodia
Taxi, bus, train, boat and flight...are all OK
Cambodia's national airline Angkor Air flies travelers between Phnom Penh, Siem Reap, and Sihanoukville, and some international services do the same. The county's bus system is seasonally-sealed but it can be budget-friendly as long as you don't mind the long journeys. Hire a car or hop on a train? They both do the trick.
Three Primary Options of Getting around ...
Flight is the most comfortable yet not too expensive option for everybody; Angkor Air and other smaller companies have direct flights between Siem Reap, Phnom Penh, Sihanoukville, and other second-tier destinations.
Cambodia has a huge web for long-haul buses in the cities as well as to the remotest rural areas; they won't be first-class cozy but some VIP ones are available.
"We can go anywhere if the price is right", say most of the taxi drivers, who speak little but sufficient English and charge lower than the flight but make sure you establish the price beforehand.
Getting around in Different Regions
For most travelers who only target at Phnom Penh and Siem Reap, no better choice than flying between. For those who are on a long vacation and want to hit as many destinations as possible, getting around involves a tactical mixture of different means.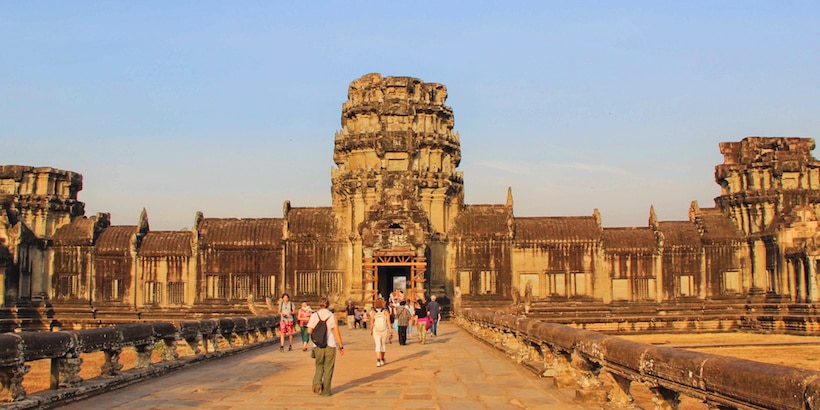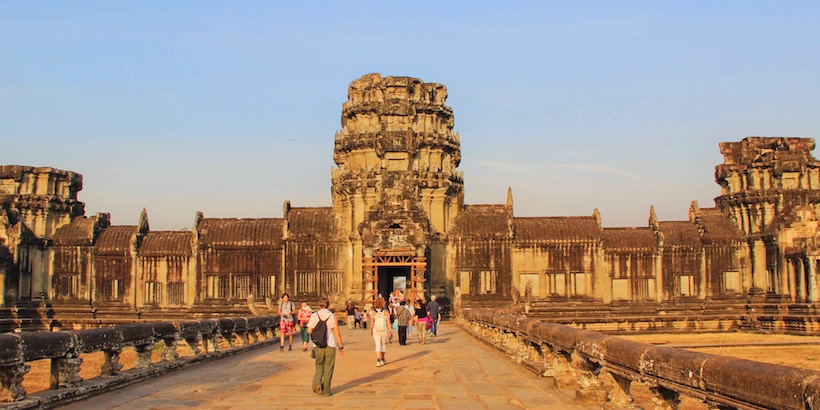 The direct distance between the two cities is 318km / 198mi by road. To travel from Phnom Penh the capital to the wonder of Angkor Wat in Siem Reap or vice versa, there are buses, minivans, private car, boat and flight, which takes from 1 hour (by air) to 9 hours (by road). In consideration of time, cost, and experience, we'd recommend bus, flight, and a boat trip.
Options:
By air:
Lanmei Airlines (wwww.lanmeiairlines.com), Angkor Air (wwww.cambodiaangkorair.com), Cambodia Airways (www.cambodia-airways.com), Hahn Air Lines GmbH (wwww.hahnair.com), and Cambodia Bayon Airlines (www.bayonairlines.com) have daily flights taking one hour between these two major cities. Price start from USD60 per person.
By bus:
Compared to other sections for bus rides, the Siem Reap - Phnom Penh route is in pretty decent condition and more options for buses: mini-size ones, full-size buses, and VIP coaches. However, duration depends heavily on the weather and road condition, which will take between 4 hours to 9 hours.
Bus companies of choice:
- Giant Ibis: more leg room, rest stops with clean bathrooms and restaurants offering good food, prices start from USD15 per person.
- Golden Bayon Express: minivan good for smaller groups, mostly 4 hours and very punctual, drop-off location in Siem Reap is just a few minutes to downtown. Prices start from USD12 per person.
- PSD Xpress: A new company with nicer buses, using the same rest stops as Giant Ibis, more room for luggage, not too well known yet so their buses are less crowded. Prices from USD12 per person.
By boat:
Boat rides start from Sisowath Quay in Phnom Penh, 20 minutes from the downtown area by car and arrive at Chong Kneas in Siem Reap, which is 40 to 60 minutes to downtown Siem Reap by car. Duration varies to water level, from 4 hours up to twice that length. in the dry season, some boats cease to the operation and most only operate between July and March.
Options include luxury cruises with some stops on islands for sightseeing, fast boats that shorten the trip down to 4 hours, and local ferries that are often packed with locals. Price ranges from USD18 to USD35 per person.
Recommended boats: Tara Riverboat, Toum Tiou Boat, and Angkor Express Boat.
Adventurers who would love to break free from the tourist hordes would never mind the hard traveling up in the northwestern corners of Cambodia. Here you can navigate around floating villages on the Tonle Sap Lake, trek up the jungles to some secluded temples forgotten by time or get a taste of the laid-back Battambang.
Two modes are offered: private car and boat.
By private car:
Compared to unreliable and uncomfortable buses, it's better (and most of the time, less pricey and troublesome) to hire a private car. Cars go to literally every secret corner both marked and unmarked on the map. Road condition might not be lower-back-friendly but good thing is that you can stop anytime and anywhere at will. Price varies on distance, car type, and your bargain skill; DO remember to settle on the price before you load everything into the back trunk.
- Siem Reap to Battambang: distance of 163km / 102mi, taking 3 to 4 hours.
- Siem Reap to Preah Vihear: distance of 156km / 98mi, taking 3 hours.
- Siem Reap to Tonle Sap Lake (the nearest point): 25km / 16mi, taking 40 minutes.
- Siem Reap to Samraong (border-crossing at O Smach): 98km / 61mi, taking 2 hours.
- Siem Reap to Poipet (Thai-Cambodia border-crossing): 150km / 98mi, taking 3 hours.
By boat:
Boating is always a nicer option for Siem Reap-Battambang leg even though the waterway can be tricky in different seasons. The views are rewarding as Tonle Sap Lake and smaller streams are considered as the best water travel in Cambodia. The journey takes between 5 and 10 hours, prices start from USD15 per person.
Angkor Express Boat is the best option.
Just a couple of hours by road from Phnom Penh, travelers can reach to some jungle-covered regions in southern Cambodia; quite towns of Kampot and ancient capital of Oudong are all treasure troves worthy the hardness. Again, private car is the best transportation means to get there, prices ranging from USD50 to USD200 per day/car to different mileages.
For motorcyclists, they wouldn't miss the chance to ride all the way to Bokor National Park on a smooth, paved and pretty scenic road. However, this will require some certain permit and safety can be a big issue.
Although Cambodia's beaches are slightly shier of charm compared to Thailand or Myanmar, they still make a great trip of better value, especially during the peak season in Southeast Asia. Bus tickets to the port towns can be booked while travelers will also enjoy boat rides navigating the islands around Sihanoukville. There are also flights between Siem Reap, Phnom Penh, and Sihanoukville, taking 1 hour and costing from USD60 per person.
Start Planning Your Trip to Cambodia
Contact an expert in Cambodia that will support you 1-1 from the initial chat, itinerary design, and even on the trip.