Flight, overland or take a boat? 
Neither Phnom Penh nor Siem Reap can be counted as an international hub but getting there is never easier once you grasp all the possibilities.
About Entering Cambodia ...
There are three international airports in Cambodia: Phonm Penh, Siem Reap and Sihanoukville but the last one doesn't have many international flights.
Cambodia is connected with Laos, Vietnam and Thailand, overland border-crossing is possible but all border towns on the Cambodian side are very far away from the urban areas.
Also linked with Vietnam by the Mekong River, a 6-hour speed boat ride from the Mekong Delta in Vietnam to Phnom Penh is a budget-friendly transportation.
Except for international cruises that stop by Cambodia with a group visa, visa-on-arrival is available for any means and ports of entry.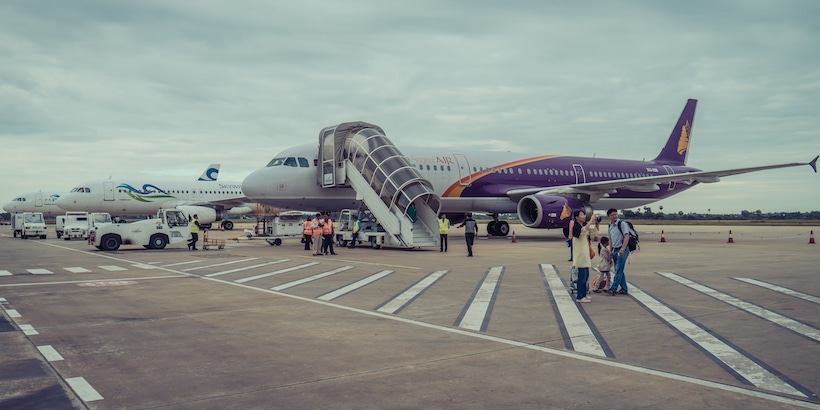 Cambodia is not directly connected to any western country. International arrivals in Phnom Penh and Siem Reap are from many cities of China, Hong Kong, Taipei, Tokyo, Kuala Lumpur, Singapore, Ho Chi Minh City, Danang, Nha Trang, Hanoi, Manila, Bushan, Seoul, Bangkok, Koh Samui and Phuket. Bangkok, Hong Kong, Kuala Lumpur and Singapore make for easy transit within the same day after your inter-continental flights.
The Most-Common International Routes with One Transit
| Origin | Transit | Duration |
| --- | --- | --- |
| West coast of the United States | Taipei, Seoul, Hong Kong | with 22hrs |
| Canada and east coast of the United States | Seoul, Hong Kong, Shanghai | within 24hrs |
| Australia and New Zealand | Singapore, Kuala Lumpur | within 12hrs |
| Western Europe (London, Paris, Berlin…) | Bangkok, Ho Chi Minh City | within 16hrs |
| Dubai, Istanbul… | Bangkok, Singapore | within 16hrs |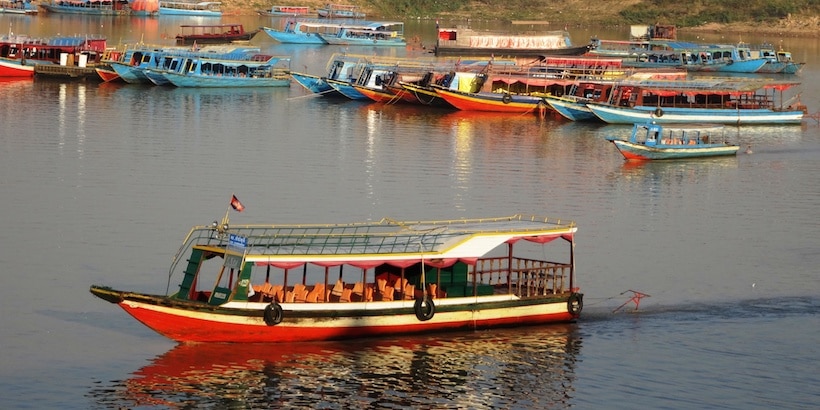 Get to Cambodia by Overland Border-Crossing
Travelers on long-haul Asia exploration make their way through Thailand, Laos and Vietnam. There are seven crossings on Thai-Cambodia border, one on Lao-Cambodia border and five on the Vietnam direction. However, with an e-visa one can only get in overland via Hat Lek / Koh Kong (from Thailand) , Aranyaprathet / Poipet (from Thailand) and Moc Bai / Bavet (from Vietnam).
Overland Entry Transportation
| Country of Origin | Get There | Get in Cambodia |
| --- | --- | --- |
| Thailand | Bangkok - Hat Lek: 1hr by air to Trat and drive 2hrs to Hat Lek | Koh Kong - Sihanoukville: 4hrs by driving |
| Thailand | Bangkok - Aranyaprathet: 3hrs by driving, 6hrs by train | Poipet to Siem Reap |
| Vietnam | Ho Chi Minh City to MOC Bai: 2hrs by driving | Bavet to Phnom Penh: 4hrs by driving |
Please be noted that Vietnam visa and Thailand visa (if required) shall be obtained beforehand. Also, it has been reported that Cambodian officers on the Koh Kong Crossing charge aggressively for Cambodia visa-on-arrival so it's better to apply for eVisa before your trip.
Bus tickets for any of these crossings can be found at any corner of the street. Bus will stop at the border and you will need to lug everything off and go through the immigrations of both countries before getting back on the bus again.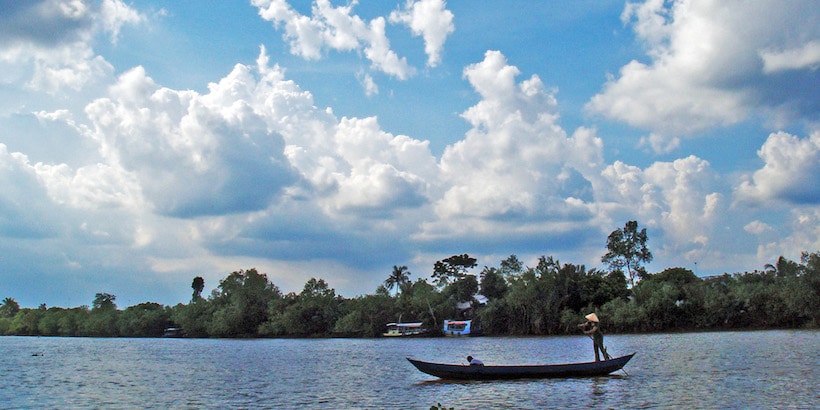 Find Your Way to Cambodia
No matter from where you are entering Cambodia, you will need to be prepared for the immigration formalities and transportation. Talk with us anytime if you need more help.
Start Planning Your Trip to Cambodia
Contact an expert in Cambodia that will support you 1-1 from the initial chat, itinerary design, and even on the trip.