Trip to Cambodia, Myanmar & Thailand
Designed for adventurers on a long vacation
Say you got 4 weeks in Asia, where to go and what to do? Such a long vacation is sufficient for hitting three destinations: beguiled at Angkor Wat of Cambodia, soaking up the peaceful lifestyles in Myanmar and unwind on the beach of Thailand...
Why You'll Love This Trip …
Handpicked experiences in the essential attractions of three countries.
A great program for both first-timers who want to see as much as possible and seasoned travelers looking for something deeper.
Sightseeing, hands-on experiences and free time at leisure, flexibility and even-handedness of excitement and relaxation , that's the vacation you deserve.
Hotels in details offers awesome value for travelers in general and family vacationers.
Asia Wonders: 26-Day Trip to Cambodia, Myanmar & Thailand
The best time for this trip falls from October  to March, when the weather is cool, dry and cozy. Fewer tourists are seen if you are traveling during April to September; occasional downpours might come in your way, though. Whenever you are traveling, this sample trip can be re-arranged to suite your own taste.
Day-01 Siem Reap Arrival
Siem Reap is the airport town of Angkor Wat, greatly relying on tourism. Meh, not so impressive, you might think at the first sight. But things will change after a few days here.
Trransfer to your hotel. Check in and relax for today.
Gatsby Tips:
Gatsby's hotel choice: Viroth's Villa, elegant French deco throws you back in time. As you might need some relaxation for the first night in Asia, this nice hotel offers all comfort at home and short walk to the Night Market and Pub Street.
From Bangkok, Singapore, Hong Kong, Kuala Lumpur and other Asian major cities, you can easily find flights to Siem Reap. Singapore Airlines, Thai Airways and Bangkok Airways are our top choices.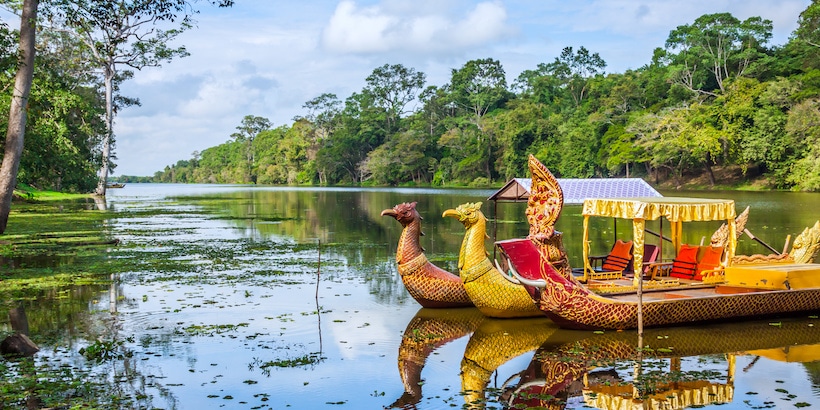 Day-02 Angkor Wat in Depth
After breakfast, meet up a Khmer scholar at Angkor Wat. Later, visit
Bayon Temple, known for the stone faces with mysterious smiles. For two hours you will be with the scholar who will share you some interesting insights of this wonder.
Enjoy a nice Khmer-French lunch at Viroth's and then you will get to Ta Prohm, where the movie Tomb Raider was taken. After the visit, get on a traditional Gondola boat to ride along the moat of Angkor Thom and weave your way to the less-known Prasat Chrung Temple for a stunning sunset.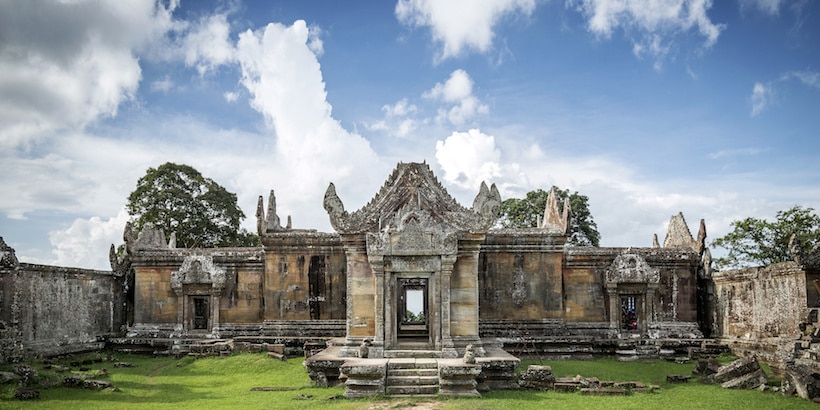 Day-03 The Less-Seen Side of Angkor Wat
Straying from the main road, today you will visit serval secluded and least-trodden temples outside the first two rings of the Angkor Wat Complex.
Firstly visit the graceful Banteay Srei, devoting to the Hindu god Shiva. Venture out of town after lunch and visit Preah Khan Temple, which used to be the biggest Buddhism monastery and college at its peak time. In the afternoon, drive to Eastern Mebon Temple, a massive temple mountain, from where you can take a 10 minutes of walking to Pre Rup Tower for a stunning sunset.
Be back in town and relax yourself with our special offer of Khmer massage (1 hour).
Day-04 Siem Reap to Phnom Penh by air
For the last day in Siem Reap, you wouldn't want to miss out the sunrise view over the lotus pond in Angkor Wat. Transfer to the airprot and fly to Phnom Penh.
Check in and relax.
Gatsby Tips:
Gatsby's hotel choice: Plantation - Urban Resort and Spa, only a few minutes of walking to the main sites of Phnom Penh yet secluded enough for some relaxing time.
Our private tour guide is always available if you feel like exploring the city. Some ideas: riverside Night Market and the square of the Independence Monument.
Day-05 Phnom Penh Highlights
After breakfast, take a short Tuk tuk ride to the Royal Palace and Silver Pagoda, both are great for a brief introduction to Cambodia's royal court living and history. Get to the National Museum before lunch.
In the afternoon, we will drive out of town and reach the sites of S21 Museum and the Killing Fields, where two survivors from the Khmer Rouge will walk you through the darkest period of Cambodian history. This will not be pleasant for either you or the survivors but it's an important insight you should get of the country.
Return to downtown of Phnom Penh and explore its funky street art of Street 93 and surrounding neighborhood in the Boeung Kak Lake area. Walk around the Phsar Reatrey Night Market before returning to your hotel.
Gatsby Tips:
We will pay a fair amount to the tuk tuk driver, who usually doesn't expect to be tipped. However, a small tip of USD1 or so will be highly appreciated.
The itinerary can be adjusted if you are concerned about the content of the S21 Museum and Killing Fields is not suitable for your children.
Cambodia's street food flair is famous for freaky snacks such as fried insects and silkworms. You may have a try but we'd suggest you go easy or stay away.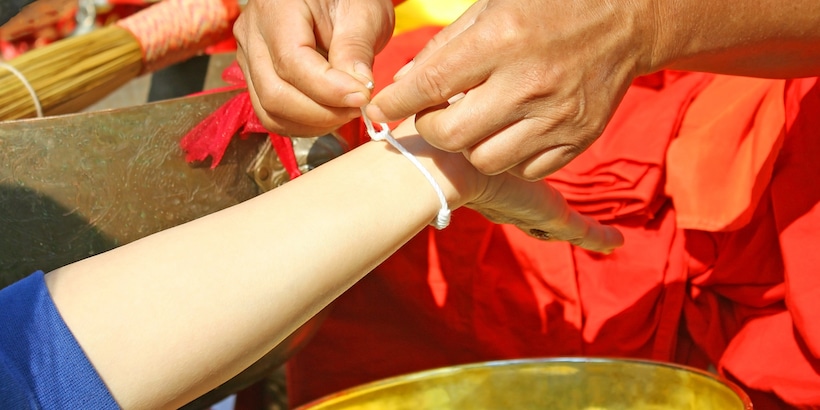 Day-06 Oudong Ancient Capital, Phnom Penh to Yangon by air
Before the French made Phnom Penh the capital of Cambodia, the ancient city of Oudong has been the religious center and royal seat for the Khmer Kingdoms. Today you will get to this ancient capital after an hour of driving.
Climb up to Oudong Mountain and get a view of the entire city dotted with temples and pagodas. Check out Preah Sakyamoni Chedi , which was believed to house some holy relics of the Buddha himself. The great silver-covered chedi shows cross section of Buddhist and Hindu motifs. As a royal worship site, there are some royal burial sites for some Khmer kings.
After a Khmer lunch served at a local diner, you will visit a small temple where the host monks will give you a personal blessing ceremony. Flowers will be presented during the chanting and you will receive a cord tied up your hand as a symbol to cast off bad luck and bring forth a happy year.
Return to Phnom Penh and catch the late night flight to Yangon.
Gatsby Tips:
There will be 509 steps up to the summit of Oudong Mountain, which will be an easy climb for most people. There will be some local kids offering "guiding service" along the way, who will probably give up chasing you after you say no thanks nicely.
Getting a personal blessing is not mandatory. If that is not your thing due to different religious beliefs, we can change this to a brief monk chat.
Air Asia has a daily flight between Phnom Penh and Yangon at 1100pm. If you'd like to fly early, some transit options are available and the itinerary will be adjusted accordingly.
Gatsby's hotel recommendation: Pan Pacific Yangon, north-facing rooms have a nice view of Shwedagon Pagoda. As you will arrive next early morning, we will book one extra night ahead. Go check in upon arrival and get some good rest.
Day-07 Yangon's Highlights
Today we will have a late start at noon.
Firstly you will check out Sule Pagoda before a nice lunch at Shangri-La Sule. Walk along the streets of the Colonial Distric to learn about the untold historic events behind all these buildings. After a brief stroll at Aung San Market you will go for a stunning sunset view at the landmark of Shwedagon Pagoda.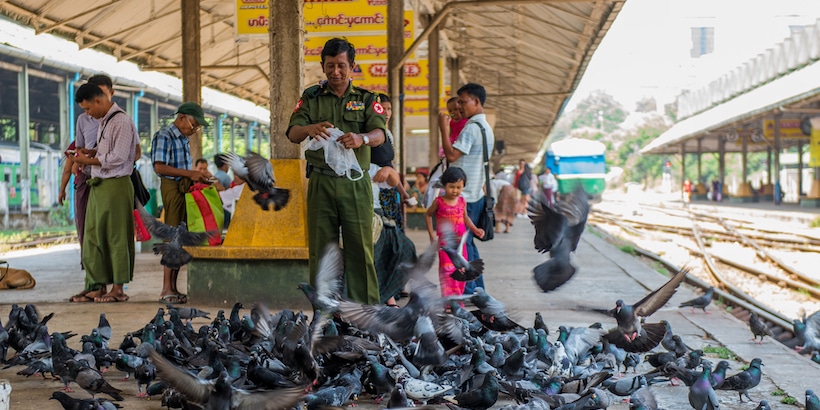 Day-08 Yangon to Bagan by air
Enjoy a 1-hour ride on Yangon's Circular Train, taking you around from city to villages. Jump off at Insein Station and visit the notorious Insein Prison.
After lunch, you will be taken to the airport for the onward flight to Bagan.
Gatsby Tips:
Early morning flights are fairly frequent in Myanmar. However, we will schedule you to a later one if available. Some mid-day flights are flying every other two days.
Gatsby's hotel recommendation: Amazing Bagan Resort, awesome view of the pagodas and the private balcony is a good place to chill.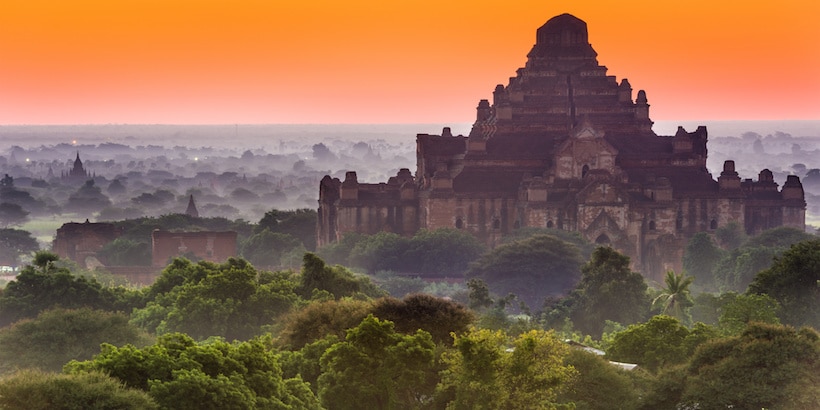 Day-09 to 10 Fantastic Bagan in Two Days
In the early morning, you will be taken to our chosen location for balloon watching. Capture this magical vista either by your eyes or lens. Return to your hotel for a proper breakfast.
We will set off later for an Indian Jones ride over Bagan's plains. Not on horseback, though. You will first learn how to ride an Ebike (electric scooter) and your guide will lead your way among the pagodas. He will choose a couple of significant ones for you to visit.
The next day's activity will be planned on the spot, probably more temples, pagodas, and villages will be covered. Better chances to do the sunrise and sunset photography if interested.
Gatsby Tips:
Although ox cart might look pretty authentic and "being-in-Rome", we wouldn't want you to be covered in dirt and the roads are too bumpy to enjoy.
Launch site of the balloons changes according to the wind direction. We will choose some less-visited temples in the central area allowing you the best possible view of the balloons. This would also mean a little bit of driving in dirt from your hotel. Grab something to eat on the way. Balloon watching will be over before 0700am.
Day-11 Bagan to Inle Lake by air
Enjoy some free time until your flight to Heho, the airport town 1-hour away from Inle Lake.
Transfer to your hotel and free at leisure.
Gatsby Tips:
Normally we will arrange a noon flight to Heho; please let us know if you want to get there earlier or would rather spend more time in Bagan.
Gatsby's hotel recommendation: Pristine Lotus Resort Inle, or Novotel, boat house by the water, wide-open vistas of the lake.
Day-12 to 13 Be A Local Inle Laker
For the following two days, not only will you check out their bustling 5-Day Market, pay a visit to some floating pagodas/monasteries and floating villages, but also will you enjoy talking to local fishermen and gardeners, maybe even try out tending the floating gardens.
Staying in Inle Lake and feeling up its gentle breeze is an extraordinary experience that throws you back into the simpler days. And don't forget to sample some local-produced organic vegetable salad and lake fish.
Day-14 Inle Lake to Mandalay by air
Growing some attachment to the beautiful lake? There's always more calling you back for the next trip. Today you will take a mid-morning flight to Mandalay. Wait and see what it got for you.
Gatsby Tips:
Gatsby's hotel choice: Mercure Mandalay Hill Resort, great rooms with views of the city and Mandalay Hill, wide selection for breakfast and easy to get around.
Day-15 Mandalay Impression
You will enjoy a relaxing morning in Mandalay, exploring the world's largest book Kuthodaw Pagoda.
We will set off to Mahagandayon Pagoda. Thousands of monks and nuns are waiting in line to receive the last meal of the day, which is a scene that you've seen nowhere else.
After lunch at a riverside restaurant, you will ride on an ox cart in the Ancient Town of Mingun, widely known for the unfinished Mingun Pagoda, which should have been the largest pagoda if it were ever to be completed. Swing by the white pagoda right by the Mingun Pagoda, Hsinbyume Pagoda is one of the most elegant pagodas in Myanmar.
On the way back to Mandalay, a private boat will take you on a ride near U Bein Bridge while the last sun ray is adumbrating the outline of the bridge.
Day-16 Mandalay to Chiang Mai by air
Take a fly to Chiang Mai in Northern Thailand be welcome by a warm smile.
Transfer to your hotel and free to explore the graceful town.
Gatsby Tips:
For many westerners, Thailand is free to enter without a tourist visa. And for other nationalities, visa-on-arrival is available at the airport.
Gatsby's hotel choice: While the famous old town is often flocked by tourists and vendors, the riverfront property of Aruntara Riverside Boutique Hotel is a quieter choice. The graceful setting of British colonial-era style and northern Thai influence, its spacious room is comfortable and quieter for a cozy stay.
We think you can really use some free exploration after all the sightseeing in Cambodia and Myanmar. The ancient town of Chiang Mai is pretty easy to navigate on your own and extremely beautiful at the evening and night. Don't forget to check out the vibrant night market, too!
Day-17 Elephant Camp Experience
Did you know that elephants are the most sacred animals in Thai cultures? Yet the fact is that people are still mistreating these endangered Asian elephants with heavy labor and poor living conditions. Today we will take you to a camp that focuses on protecting these cute creatures.
When you get to the elephant sanctuary, you will first get some briefing on these animals, how they live and what they like. And then get some hands-on experience feeding, bathing and taking care of them. Sure you will have a blast at this camp.
Back to Chiang Mai in the early afternoon after a simple lunch at the camp. Free to do more exploration or chilling out by your hotel's swimming pool
Day-18 Thai Flavors
Spicy, tasty and healthy, Thai food has a huge fan base all over the world. Today you will enjoy a private cooking session with a local master chef. The session is held at an organic garden in a humble village outside Chiang Mai and your chef, a Thai girl who's been developing Thai-international menus for years, will share her insights on the food as well as her life stories.
Return to your hotel after a lovely lunch with your chef.
Day-19 Chiang Mai to Khao Lak by air and car
Thailand boasts of a wide range of nice beaches; from backpackers' party beaches to the secluded private islands, everybody has his fancy stroke and Khao Lak is our pick for you.
Make your way to Phuket airport and a private transfer will take you on a 1-hour road trip to Khao Lak. Check-in and enjoy your time there.
Gatsby's Tips:
No direct flight to Khao Lak and it takes a transit with air and car to get to this less-visited beach destination. While the majority heads down to the bustling beaches of Phuket, you are ensured of a noiseless vacation on Khao Lak's pristine beach overlooking the Phong Nga Bay.
Gatsby's hotel recommendation: The adult-only resort of The Haven Khao Lak owns a long-stretching white sandy beach and 5 amazing outdoor pool. In addition to delicacies served at its two restaurants, it's also easy to walk around to find fresh seafood in the nearby restaurants. Ideal for romantic getaways and upmarket travelers.
Day-20 to 23 Khao Lak Free Days
Enjoy your free days in Khao Lak.
Day-24 Khao Lak to Bangkok by air
Enjoy a free morning in Khao Lak and then transfer to Phuket for the onward flight to Bangkok.
Check in at our selection of Pullman Hotel G upon arrival and call it a night.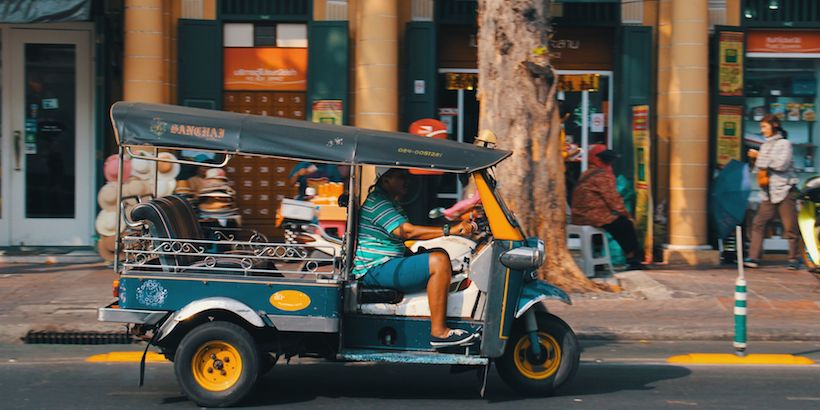 Day-25 Be A Local in Bangkok
While Bangkok's attractions are easy to appreciate without any guide, we'd like to show you how a day goes by as a local in Bangkok.
After breakfast, hop on the Skytrain to a flower market by the Chao Phraya River while the vendors are getting busy for their first business in the morning. Walk along Chinatown and enjoy some snacks. An old Chinese temple is an interesting place to take a short break.
In the afternoon, take a long-tail boat along Bangkok's maze of waterways and get to Wat Pho. Here you will experience 15 minutes of traditional Thai food massage.
Don't miss out the tuk tuk ride! This crazy little taxi will take you back to the hotel before evening.
Day-26 Bangkok Departure
Wrapping up this wonderful Asia holiday, our comfortable private transfer will escort you to the airport.
Start Planning Your Trip to Myanmar
Contact an expert in Myanmar that will support you 1-1 from the initial chat, itinerary design, and even on the trip.