How Long to Stay in Guilin
We recommend at least 4 days for just all travelers
Slow it down and soak it up. Guilin is always better at a slower pace, especially after you've just had enough with big cities.
Why You'll Love Guilin
Guilin boasts more for landscapes, a retreat back to nature and a rest stop between big cities. 
The peaceful and self-content vibe is the real charm, once here you can't help but slowing down and savoring every bit of it.
Guilin city itself has little to offer, venture to Yangshuo and Longsheng instead, which calls for at least 2-night stay.
Summary: At Least 3 Days!
By "at least 3 days" we are talking about 2 effective days plus one day for transportation as our essential experiences are mostly away from Guilin city, eg. motor raft in Yangshuo or hiking at Longji Rice terraces.
Over 80% of our past guests take at least 2 nights in Yangshuo. Photographers would prefer more time in Longsheng, especially during spring (irrigation) and autumn (harvest).
less than 3 days
Guilin would be the choice for accommodation
- same-day-back trips
- hectic pace
- limited hotel choice
+ no hotel changing
+ public transportation
3 days and up
Yangshuo and Longsheng both good to stay
+ to Yangshuo on arr.
+ more hotel choices
+ flexible and relaxing
+ specific interests met
- higher travel cost
How Long to Stay is Decided by Your Interests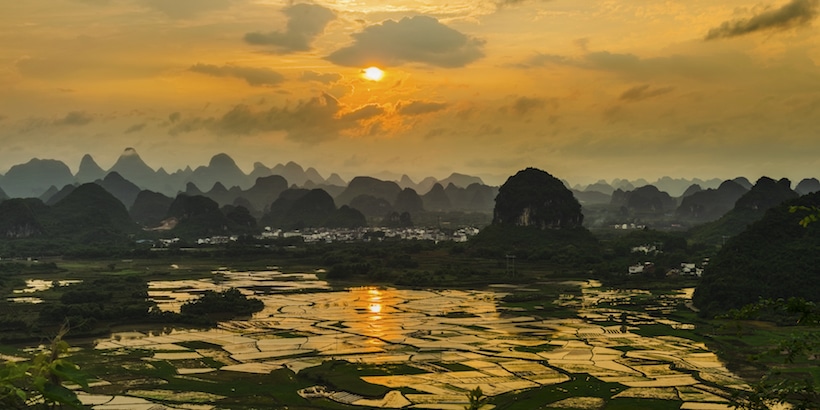 Guilin might not be on the top list in comparison to Beijing, Xi'an and Shanghai yet its diversity in experiences and landscapes are worthy for more than a 1-time visit. Your own interest should be the primary factor to consider while deciding the duration for Guilin.
Here is a short lowdown for most possible scenarios:
 First-timer: 2 to 3 nights:
First-timers, in a general sense, are very efficient. Making the most of your time in Guilin is always important yet you don't want to feel hectic. 2 nights or even 3 nights in Yangshuo grants you the best that Guilin has to offer. You may head straight to Yangshuo upon arrival.
Second or the third trip: 3 to 5 nights:
You will come back for more after the fine experience offered by your first trip and now you know how you want to spend your days. If you have already done Yangshuo before, add 2 nights in Longsheng or 2 nights in Longsheng and 1 night in Sanjiang to your itinerary.
Special interests: making Guilin your own oyster:

- Photography: 3 to 6 nights
It is a universal understanding that great photos take time. Allow yourself with more time for better chances for photos as the weather can be tricky, especially during the summer. 3 nights each in Yangshuo and Longsheng is advisable but if your time is limited, our tactical planning and operation will always become handy.
- Family holiday: 3 to 4 nights
Never a waste to spend your days with your family. Slow down and embrace the natural splendor and various activities you can try, we would recommend at least a 3-night stay in Yangshuo.
- Romantic getaway: 2 to 4 nights
A romantic getaway is boosted up with a nice hotel or resort. You don't want to change hotel the next morning so heading straight to either Yangshuo or Longsheng is smarter. With that in mind, a 2-night (at least) stay balances out your sightseeing with leisure time with the important one.
- Outdoor fans: 3 to 5 nights
Guilin offers a whole package for outdoor enthusiasts better than any other destination in China: rafting, drifting, kayaking, rock climbing, mountain biking, trekking, caving and camping, you name it. 2 nights are needed for the days with excitement yet an extra night for relaxing before you fly out.
Here we are only offering suggestions based on our experiences. We believe that every trip to Guilin should be unique and none is to be taken lightly so we will study your case and offer what we think suits you the best, both time-wise and cost-wise.