7 Best Restaurants in Inle Lake
Different tastes for different palates
Being an international travel destination means that you will never go hungry in Inle Lake. Shan, Burmese, Indian, Asian, French, Italian and all the restaurants are working hard to bring you their finest tastes while we have 6 options for foodies.
Why You'll Love Dining in Inle Lake …
Mainly living on farming and fishing, the floating gardens are the direct supplies for restaurants, making Inle Lake one of the best places for organic food.
You can find possibly the most authentic Italian and French food here as some foreign travelers have made Inle Lake their second home for years.
From restaurant at your hotel to small diner, almost all dining venues boost for great views just outside their windows.
More and more restaurant owners tend to pay more attention to environment protection and helping local community; you will be part of the help, too.
Best Restaurants in Inle Lake
One might have grown some attachment to Burmese food after their experiences in Yangon, Bagan and Mandalay. Being the major calling card of Shan State, Inle Lake is the very place to extend one's gourmet hunt on Shan cuisine. Besides the local tastes, international options vary, too. Here is a list for the best places to have different types of cuisine.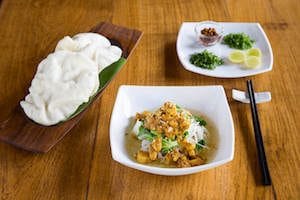 Burmese: Inle Heritage
Re-creating traditional Inthar food from their family recipes, the founder and chefs or Inle Heritage Restaurant take great pride in their sumptuous food in a lovely setting. All ingredients are organic from the local floating gardens.
The restaurant's profit goes straight to Inle Heritage Foundation that helps young locals build up career path in hospitality industry and they are also devoted to sustainable practices and protection for the lake. Cat lover would admire their work for sheltering 32 Burmese cats.
Notable dishes : Shan noodles, spring onion fritters (kin baung kyaw), banana cake, fish curry
Features: Burmese, vegetarian-friendly, organic, family, fine dining
Business hours: 0700am - 1100pm daily
Address: Inpawkhon Village | Inle Lake, Innpawkon, Myanmar / +95 9 493 12970
Burmese: The Shan Restaurant
Marked as one of the best places for traditional Shan food by the Lonely Planet, The Shan Restaurant is a delightful place to try out fresh Burmese cuisine that's done in a modern fashion. They also have a great wine selection.
They offer different options for dining: picnic in a bamboo forest, special private dinner in a hidden Shan village and exotic lunch on the lake served on a converted rice barge. The real log fireplace, a full wine selection and light music really add up to the colonial-era atmosphere.
Notable dishes : Shan-style BBQ, chicken satay, fish curry, green tomato salad, butter fish in banana leaves
Features: Burmese, vegetarian-friendly, gluten-free, special dinner, wine, fine dining, outdoor dining
Business hours: 0700am - 1030pm daily
Address: Yone Gyi Street | ViewPoint Lodge, Nyaungshwe, Myanmar / +9581209062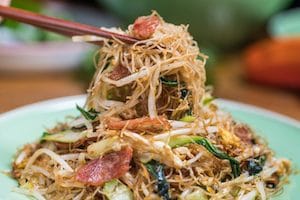 Thai: Green Chilli Restaurant
Burmese cuisine and Thai food share a lot in common and Inle Lake also brings some great options for Thai food hunger. Green Chili Restaurant is, without a doubt, one of the best. Here Thai is perfectly blended with natural produces from the region and tastes are slightly modified to suite more palates.
The owner Paul used to be the chef at the Ritz-Carlton in Doha. he is running this restaurant with his wife Kaythi to help the local community by bringing more jobs and business to the farmers. Paul always busy the ingredients himself at the Nyaungshwe Market nextdoor.
Notable dishes : Spring rolls, onion balls, fish Tom Yum soup, chicken with cashewnuts, pork curry
Features: Vegetarian, Asian, Burmese, Thai, family dining, fine dining
Business hours: 1130am - 1000pm daily
Address: Hospital Rd | Mingalar Qtr, Nyaungshwe, Myanmar / +9595214101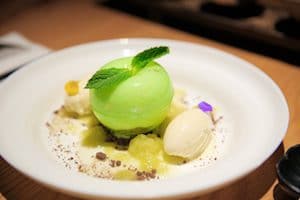 French: The French Touch
The French Touch, well, rather a cafe/bakery than a restaurant to be accurate, is located in Nyuangshwe; a favorite place for local expats and travelers who would like a real coffee and authentic croissant. Their set-menu breakfast offers croissant, toasted bread with jam, yogurt, fruit shake and hot chocolate, great value and taste. Home-made yogurt and fruit jams, handcrafted ice cream and real nice pastries that can remind you of a lazy Sunday brunch back at home. The brightly-painted orange exterior stands out and the homey atmosphere is perfect for a cozy afternoon.
Notable dishes : croissant, sandwich, Shan noodles, chicken salad, banana flower salad, yogurt and avocado milk shake
Features: French, cafe, vegetarian-friendly, gluten-free, family, breakfast, afternoon tea, mid-range dining
Business hours: 0800am - 1030pm daily
Address: Kyaung Taw Shayt Street | N0 23, Myo Lac Quater, Nyaungshwe 081, Myanmar / + 9595251365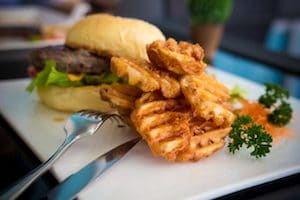 Fusion: Asiatico Pub Inle
Thailand's food brand Asiatico set up its Shan branch in 2016 and it soon becomes the region's iconic place for great pizzas, draught beers and an international dining. The three-storied wooden house melds Inle Lake's fresh ingredients with great culinary skills and offers its guests with an upbeat yet cozy atmosphere.
The menu is mainly western but they also have some real nice Shan food. The French owner and his team know how to entertain the guests: you can play pool, enjoy music, watch live sports or chill on the rooftop terrace.
Notable dishes : Gigante pizzas, fish burgers, French fries, Teriyaki butterfish, chicken in brown onion gravy with mashed potato; sautéed green peas, cocktails
Features: Italian, European, American, bar, vegetarian-friendly, family, mid-range
Business hours: 1100am - 1100pm daily
Address: Museum Road, Nyaungshwe, Myanmar / +95 9452096741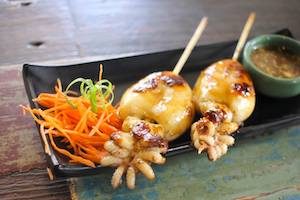 Fusion: One Owl Grill
Set in a wooden two-storied building, this restaurant, another outlet of the leading food chain Asiatico, serves more than great food. With an interesting owl thing, everything here is all around owl that is considered of bearer of luck in Burmese cultures. Art pieces on the walls, tablewares and menus are all decorated with colorful owls, making it a fun place for family dining.
The menu is mainly Mediterranean and American with some Shan options. They have a full menu for wines and beers, too. Sweet tooth will really dig their chocolate mouses.
Notable dishes : Hummus, Babaganoush, Shan potatoes, burgers, chocolate mouses, skewers
Features: Mediterranean, American, bar, grill, family, mid-range
Business hours: 0700am - 1100pm daily
Address: 1 Yone Gyi Street | Inle Lake, Nyaungshwe, Myanmar / +95 9262972841
Vegetarian: Bamboo Hut
While many restaurants in Inle Lake provide vegetarian-friendly options, we'd say Bamboo Hut really takes the vegan flair to another level. This lovely restaurant with great views has been a proud winner of Certificate of Excellence by TripAvdiosr during 2015 - 2018. Set in a dragonfruit plantation, the restaurant boosts for only using the seasonal ingredients produced locally. Their salad and shake are top notch. Strict vegan foodies would love their collection of soups, rolls and veggie curries. It's a bit off the main road but many would say the food, services and views make it totally worthy.
Notable dishes : Steamed fish, egg salad, pumpkin soup, Shan tofu, veggie curry
Features: Vegetarian, Burmese, family dining, mid-range
Business hours: 1000am - 1030pm daily
Address: War Taw Village, Nyaungshwe, Myanmar / +95 9 263 304 121
A very intriguing fact about Inle Lake is that many travelers didn't expect much -- well, it is a lake, nothing to be excited about, right? But they all say they want to come back some time after the trip. What makes it special lies more beyond the stunning landscapes or fascinating ways of life; dining in Inle Lake contributes, too. Still, more awaits for your discovery.
Start Planning Your Trip to Myanmar
Contact an expert in Myanmar that will support you 1-1 from the initial chat, itinerary design, and even on the trip.