6 Best Temples for a 2-Day Visit
Make the best of Bagan in 2 days
Picking only 6 out of 2,000 temples and pagodas, we are doing the mission impossible here. Heading out early for the sunrise, taking photos of novices lighting up candles, the experiences vary and these are our 6 best picks for all time.
Which 6 Out Of 2,000? ...
Bagan's temples and pagodas cover at least 4 different eras, we pick the best representatives for you to peel off the historical layers.
Some of our picks are common must-sees, while we have some secret hidden gems, too.
Our picks are good for first-timers, family travelers, and travelers on a budget. For something more in-depth, the list gets longer.
6 Best Temples for a 2-Day Visit
If this is your first time to Myanmar, you'd like to see the best and as much as possible. Sunrise, sundown, excellent structures, chances to interact with monks or novices ... are these what you are looking for? If yes, you should totally list out these 6 temples and leave some room for more if time allows.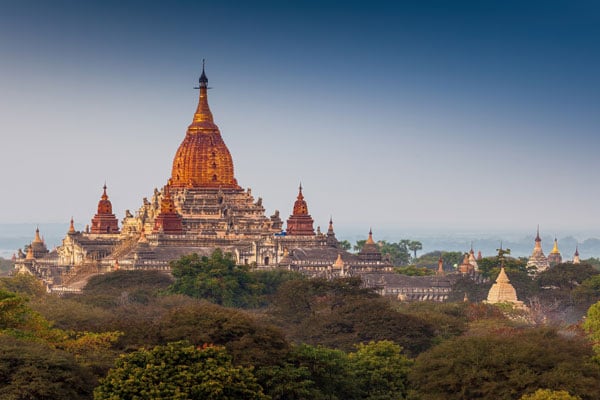 Ananda: A Wholesome Introduction
This Mon-style temple stands so predominantly that nobody can cross it off. Totally worth a couple of hours here as it tells all you need to know about Theravada Buddhism and classic style of Bagan's temples. There are four standing Buddha statues, each one facing the cardinal direction of East, North, West, and South. This is believed to represent attainment of a state of nirvana. Interested in some teachings and tales of Jakata (stories of the previous birth of Buddha in both human and animal forms), check out their exquisite glazed plagues.
Location: Central of Bagan valley
Time Needed: 1 to 2 hours
Best Time: All day
Crowdedness: 5 / 5
Nathlaung: Less-Known Sunrise Spot
Besides of being the ONLY Hindu temple in Bagan, this 11th-century temple has survived a serious earthquake in 1975 and it's one of our favorite spots for sunrise without crowds. Its main hall and superstructure still stand intact from the earthquake, offering an interesting visit to learn about Burmese nat worship and stories of the Hindu devas. Its west-setting location gives a perfect angle for sunrise towards a cluster of bigger temples around, including Thabyinnyu Temple and Ananda Temple.
Location: West of Bagan plain, close to Thabyinnyu Temple
Time Needed: within 1 hour
Best Time: Sunrise
Crowdedness: 3 / 5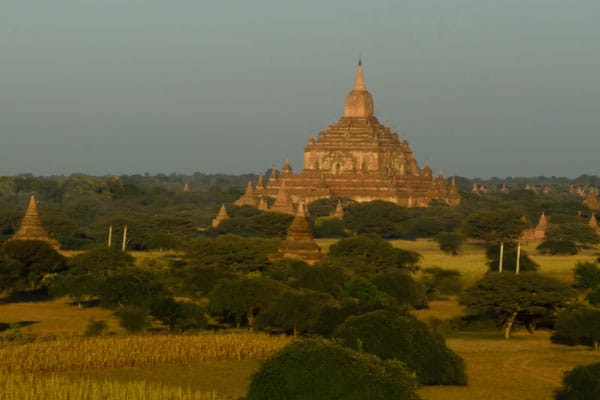 Sulamani: Great Lighting and Colors
Constructed in a similar style to the more often-packed Thatbyinnyu Temple, Sulamani Pagoda in Minnathu Village offers you chances to wander without others. That being said, be prepared to see fellow travelers and photographers during the golden hours as the red-brick temple offers not only some great photos but also peek into some finest ornamental work back in the prime time of the late-Bagan era. Because of the vaulted openings and location in the southwest part of the plains, afternoon light filtering brings on lovely photos.
Location: Minnathu Village, southwest of Bagan.
Time Needed: 1 to 2 hours
Best Time: Late afternoon
Crowdedness: 5 / 5
Dhammayangyi: Massive, Unique & Classic
The biggest, widest and most mysterious, referred by the locals as "Mama of the mamas", Dhammayangyi looks like an early-era pyramid from Egypt and its massive structure, however, was never completed. It was a guilt offer by King Narathu in the 12th century, who murdered his own father and brother for the throne. Out of the fear of bad karma, the king spent tons of money, manpower, and precious stones to construct this temple. A visit to this temple gets you insights into the late-Bagan era and historical anecdotes; it's also famous for sunset, can be horribly crowded, though.
Location: Southeast of Old Bagan
Time Needed: 1 to 2 hours
Best Time: All day
Crowdedness: 5 / 5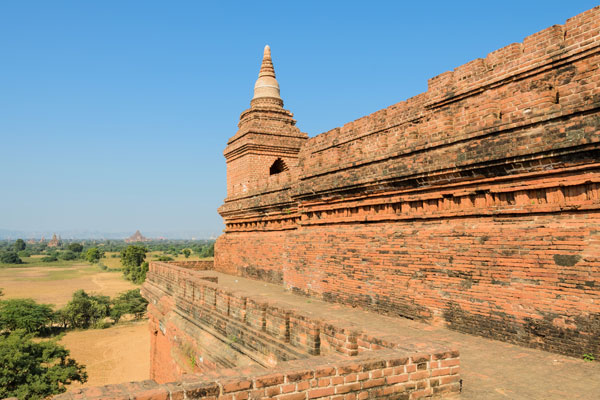 Pyathatgyi : Sunset of The Temples & River
While South and North Guni Temples, Shwesandaw and Dhammayangyi are super-hyped choices for sunset viewers and photographers, Pyathatgyi offers an even better alternative: a spot to pack up all the nearby temples at a stunning sunset. This huge wood-constructed temple is one of the few remaining "double-cave" monasteries and such a unique style is utterly Bagan-style and has long gone in history. It offers considerable space but the key is to get there at least before 0400pm or else you will not have a good spot. View of the Irrawaddy River at the last ray is also inspiring.
Location: Southeast of Old Bagan
Time Needed: at least 2 hours
Best Time: Late afternoon
Crowdedness: 5 / 5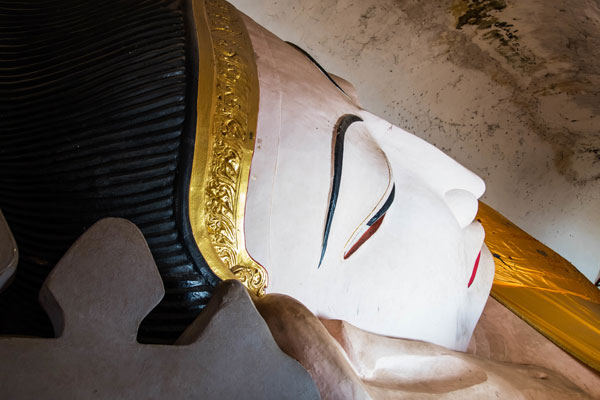 Manuha: Lively and Not Crowded
Manuha Paya is one of the oldest and most lively temples. Named after the Mon king from Thaton who was held captive in Bagan by King Anawrahta, legend has it that this temple represents his days of being imprisoned, which is evident in the four gold-painted Buddha images. What makes it one of our favorites owes to the chances of witnessing daily rituals of the monks and novices without being disturbed by the tourist groups. Set facing the east, the stairways lead up to the top of the temple: again, a less-crowded place for sunrise.
Location: Myinkaba Village, between Old Bagan and New Bagan.
Time Needed: within 1 hour
Best Time: Sunrise and afternoon
Crowdedness: 3 / 5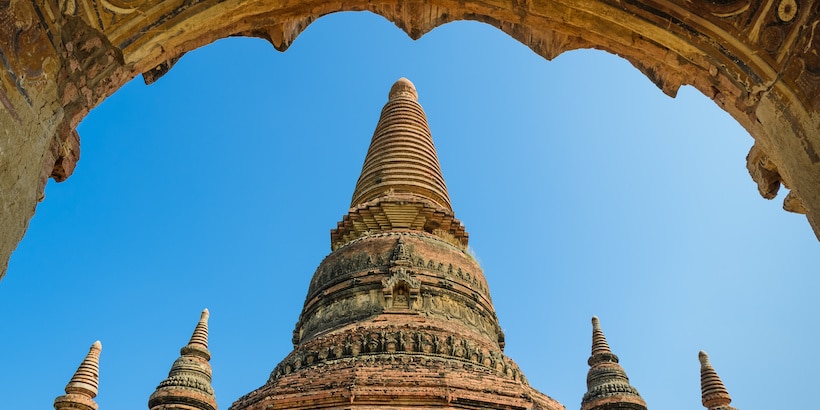 Adding Some More Highlights to Your Itinerary...
After a sunrise visit or a balloon-flight watch at 0500am, you would use a little break and have sme breakfast before setting out again. Two or three temples will be covered in the morning while we'd suggest a break again after lunch -- the sun can be ruthless throughout the year -- and then hit another 2 before sunset at the last temple of today. That means you can probably get these 6 temples within one day. Or, even better, split them up into two days and add some more : Thatbyinnyu Temple, Thambula Temple, Gawdawpalin Temple, Sein Nyet Sister Temples, Low Ka Oushang Pagoda, Buledi Temple (another secret less-crowded spot for sunrise), Htilominlo Temple, Shwezigon Temple, Shwesandaw Pagoda, Let Put Kan (uneasy to find, one of our favorite hidden temples), Swegu Gyi Paya, and more...
Over Bagan's 2,000-some pagodas, some don't even have names nor are marked on the map. Locals number them or use other nearby temples for direction reference. We have come across ome of these hidden temples and only our local guides know how to find them. Talk to us and see how we can spice things up a bit for you.
Start Planning Your Trip to Myanmar
Contact an expert in Myanmar that will support you 1-1 from the initial chat, itinerary design, and even on the trip.