How to Get around in Myanmar
Road trip, train travel, boats but the easiest way is flying
Myanmar's pretty laid-back transportation system makes it hard to connect dots if you are not a big fan of flights. Options vary for different routes and it's actually not that hard to get around in this large and amazing country. Here's how.
Transportation in General …
Flights connect most major cities while small towns rely heavily on overland transportation.
Trains are running nationwide on an extensive but poorly-maintained network; no A/C and rocking all the time, this pretty unreliable transportation is the locals' first choice.
Traveling by boat is operated by creaky governmental ships, local fleets and luxury cruises with the Bagan - Mandalay route being the most popular one.
It's possible to book all transportation online but it can be troublesome due to falliable network. Book early or book through an agent is much advisible.
Detailed Instructions and Routes
Despite the dragged-back infrastructure under the miltary junta's ruling back in last century, things started to pick up thanks to the new government's increasing funding in local transportation system. More options are presented and travelers find it easier to navigate in Myanmar. If you are looking for a bit of adventure, instead of flying around, there are some interesting alternatives for different routes.
Flying is the Best Way to Get around between Cities
Flying domestically is pretty much like taking a bus, as mostly routes include multiple destinations: departing early (yes, as early as 0600am), stopping at one destination, unloading and reloading before heading to the next. Major cities like Yangon, Mandalay, Nyaung U (for Bagan), Heho (for Inle Lake) and other state capitals are connected by frequent flights, 3 to 10 a day; other smaller destinations only have one daily flight (sometimes even with 1 to 2 transits in other cities).
Dated, jet-engined and pretty dated aircrafts are now slowly being replaced by mid-sized, France-built and propeller-driven ones. This makes the flight more reliable and comfortable. Domestic airports could still use some improvements, though. Digital system, airport shuttle (which is most likely none), luggage services are still running at the minimum. That being said, considering the prices, time saved from a strenuous road trip and the air conditioned compartments, flying is still the best and easiest way to jump between cities in Myanmar.
Routes That are Better Taken by Air
Yangon - Mandalay: direct flight 55min to 1h25min, 4 to 8 flights per day, price from USD90.
Yangon - Bagan (Nyuang U Airport): direct flight 1h20min, 4 to 10 flights per day, price from USD90.
Yangon - Inle Lake (Heho Airport): direct flight 1h10min, 7 flights per day, price from USD100.
Yangon - Ngapali Beach (Thandwe Airport) : direct flight 50min, 5 flights per day, price from USD80. ( *not available during the rainy season)
Inle Lake - Bagan : direct flight 40min to 1h20min, 4 flights per day, price from USD80.
Inle Lake - Mandalay : direct flight 25min to 35min, 4 flights per day, price from USD70.
Airfares are all included in our Myanmar tours and if you'd like to make your own bookings, it's also doable on the official website of each company. Online payment is done by most cedit cards and booking will be confirmed within 1 working day. However, cancellation or other modifications might be troublesome and policies vary greatly.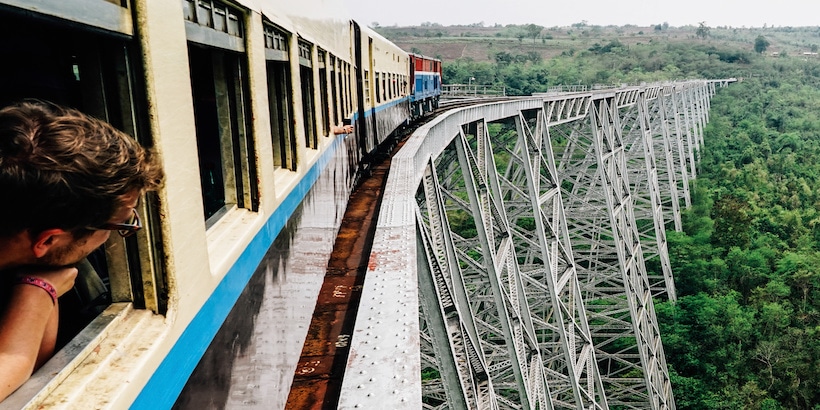 Train Ride to See the Unseen by Flights and Road Trips
The first rail track was built in 1877 y the British between Yangon and Pyay, and today this network has extended over 5402km / 3357mi, dotted by 858 train stations on a 1m-gauge track. Part of the train map is non-accessible to foreigners, such as the northern parts of Shan State.
Seats can be divided into 4 types: Ordinary Class, First Class, Upper Class, Standard Sleeper and Special Sleeper; the latter two are only available on long-distance trains. The main Yangon - Mandalay route is merely suitable to western comfort level.
Trains are marked in numbers, #1,2,3 and etc up to 3 digits, with Up (heading north) and Down (heading south) indicating the direction. Carriage facilities are, modestly speaking, fairly under average: no A/C, ripped and narrow seats, even the seats and bathrooms in the first class cargos can be quite dirty.
Considering the facilities being quite a downside while train rides DO provide you something that is missed by flying or road trips, we'd suggest adventurers choose short rides running within 10 hours.
In our article Train Travel in Myanmar, you will find more information including some most scenic routes on the track.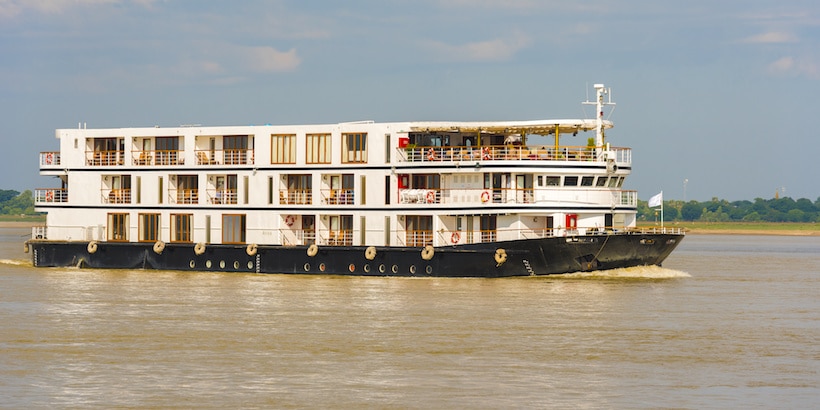 Boating Options Vary but Irrawaddy Cruise is Always the Best
Unlike boating experiences in Vietnam in its Halong Bay or the Mekong River that are much subject to the seasonal climates, boating in Myanmar is all-year available and diverse in means and experiences. Rivers outside the big cities, such as Yangon and Mandalay, hem up the rural sides and skyline and gorgeous views are offered at sunset with a relaxing boat trip.
As a transportation mode, travelers may choose from government-run tourist boats, local transit fleets or some cruising junks on the Irrawaddy River that are built for pleasure. Besides, there are boats sailing off to the coastline and touching the towns of Thandwe, Stittwe or Dawei; boat journeys to the Mergui Area has been quite a hit in recent years.
Options for Waterway Travels in Myanmar
The governmental company Myanmar Five Star Line used to be the biggest official tourist boat but now only functioning as a cargo ships.
On the rather busy of the Yangon-Pyay-Mandalay water canal, the local private ferry company Inland Water Transport takes people and goods in their 28 middle-sized ferries. Prices, schedules, routes and booking are available for foreigners at their windows near the city jetties. There's no superior seating or sleeper no matter how long the journey is.
For short rides, say the Yangon River boat trips, one may find plenty of local private fleet teams with their small boats that fit about 25 passengers. Prices can be negotiated and schedules are always changing due to the capacity. One might be aware that these small boats might not be as safe as other big ferries.
Irrawaddy cruises that are operated by legitimate cruise companies are, without doubt, the best and most comfortable option if you want to turn Myanmar's long waterways into some special experiences. Online booking is available but mostly they will be selling as package tours via travel agents.
We can help with Irrawaddy cruises and also, some short boat trips outside the main cities will be included in our itineraries, such as boat trips on the Yangon River, Bagan sunset boat ride and private boat ride near U Bein Bridge in Mandalay. We have a whole collection of guidelines about cruising on the Irrawaddy River, please check here: Irrawaddy Cruise: How to Plan and Choose.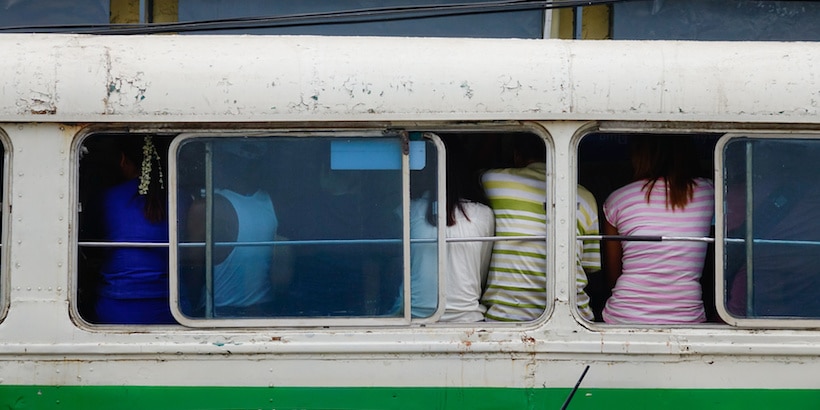 Road Trips: Less-Taken But Can be Challengingly Possible
Road trip in Myanmar can be fun and options are abundant: private car rental, urban taxi or Tuk tub ride, long-distance buses, cycling and motorbiking. Here is some simple guideline for different alternatives.
Driving on Your Own
For road trip fans, you are required to get a driving permission via the government-run MTT and Road Transportation Administration Department. Cars can be rented through most hotels and travel agents but don't expect too much as mostly you will be driving a pretty old Japanese sedan that is merely ample enough for two persons and two pieces of suitcases. Cars won't have GPS system. The road rules are similar with British rules.
Private Car or Driver Rental
Also can be arranged through hotels and travel agents, long-distance road trip is better handled by a local driver. But the price won't be cheap. Budget this from USD80 per car per day (excluding the driver's accommodation, gas and toll fees) when you are heading outside of Yangon. Language barrier can be a problem, too. All the trouble keeps it out of our suggestions to travelers in general.
Local Buses
One good thing about local buses in Myanmar is they are always faster and more comfortable than the trains, yet not neccesarily cheaper. Options are A/C express buses, non A/C regular buses and coaches with 32-seaters. Long-haul road trips by bus mostly leave between 0400pm and 1000pm and supposed to arrive the next morning. However, buses with sleepers are only available on some certain routes and they can be sold out pretty fast during the peak season, take the Yangon - Bagan route for example.
The vehicles that we use in our trips are imported cars within 5 years of usage; being in good condition and assigned with experienced drivers, this private transfer boosts for the most comfortable experiences possible. They will convey you easily for trips within 3 hours; yes, for longer journeys, we still suggest flying.
Start Planning Your Trip to Myanmar
Contact an expert in Myanmar that will support you 1-1 from the initial chat, itinerary design, and even on the trip.