Irrawaddy Cruise Travel Guide & Tips
All you need to know before your journey back in time
Irrawaddy cruise has been one of the many highlights for Myanmar travels. Many boats and lines to be picked, diverse experiences to be given and stunning vistas to be seen. Grasp the biggest draw, important facts for cruise boats and more tips before you embark.
Getting Ready for The Journey ...
Be prepared for different climates. No matter when you are taking the cruise, weather is going to be quiet different as the ship weaves forward.
Although it's pretty unlike that cruise gets cancelled in a short notice, we still suggest you purchase a travel insurance with cancellation coverage and of course, read the cancellation policy carefully.
Basically vegetables, beef and fish, most cruises accommodate to vegan and Halal diets, other special request shall be made formally at least three months ahead.
Some background learning would make the trip even more enjoyable and insightful.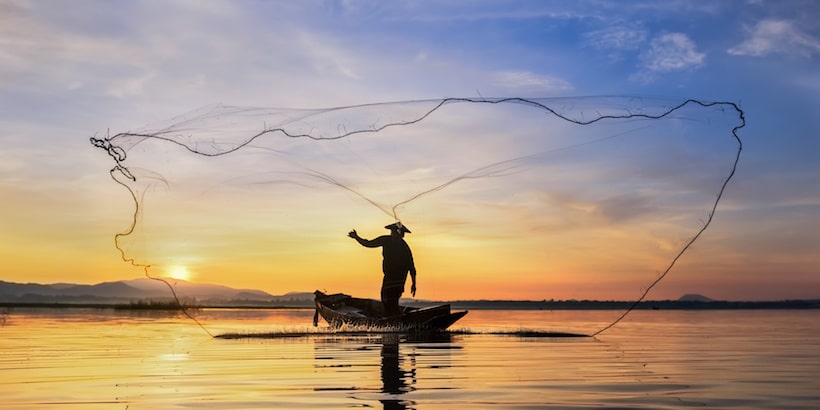 Travel Tips for Cruising on the Irrawaddy River
In our article Irrawaddy Cruise: How to Plan and Choose, you will find some helpful guidelines on what to take into consideration and alternatives on different routes and budgets. More tips will be sent to you with just one email request, or you may talk to us any time.
Scroll down, we have some more exclusive guide and tips for you.
Visa for the Cruise
There is no special visa policy for cruising on the Irrawaddy River. All foreign travelers are required to obtain a Myanmar visa. Yangon and Mandalay, two of the major ports of call are the gateways; visa on arrival at these two cities are available for most nationalities.
If you are planning to explore some restricted areas after or before the cruise, we strongly suggest you hand in the application at least three months ahead of the trip. This is a separate procedure that can be handled by a local travel agent. Check out the list of Restricted Areas in Myanmar.
Booking & Cancellation
Travelers can book the cruises on their official websites. Major credit cards can be used; visa and passport information are required. While some cruises are also sold on third-party websites, such as booking.com, your inquiry is most likely going straight to the company.
As cruising on the Irrawaddy River is one of the highlights of traveling to the country, you could also consider including it in your tour package via your travel agent, who sometimes has better rates and promotions.
The same cancellation policy applies to all channels of bookings. Read the cancellation policy carefully before placing down a booking. What's more, if you've bought travel insurance, make sure the coverage policy fits with the cancellation to prevent potential loss.
Transportation & Shore Excursions
There will be a confirmation of your booking when it's done successfully, which shall include details for transportation and excursions. Both transportation and excursions are fixed in time and location. For most cases, jetty transportation is included on both the embarkation and disembarkation, as the change of the jetty is quite often due to different water flows. You will be sharing the shuttle with other travelers; private service is also available upon request.
All shoe excursions are inclusive in the price. They will be operated by the cruise companies, using an English-speaking tour guide. If you are taking a private tour in other parts of Myanmar, your private tour guide will not accompany you on the cruise. You may choose from the excursion list offered, some of which include extensive services such as cycling in Bagan or sunset cocktail post-tour, surcharges will apply.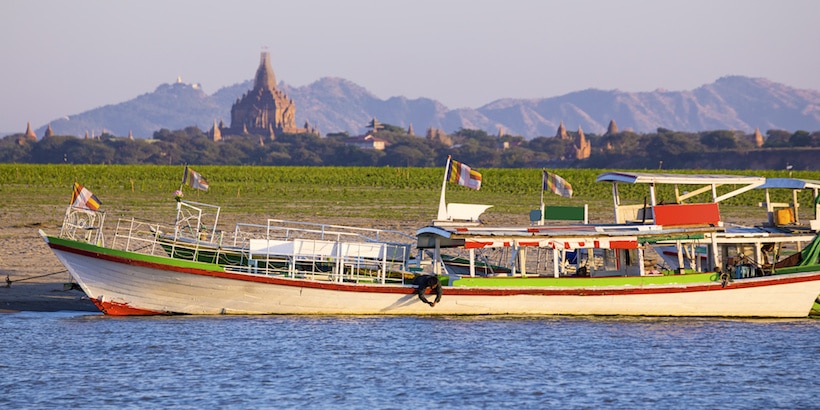 Another Trip to Bagan?
If you are taking a cruise between Mandalay (or any other possible destination) and Bagan, a shore excursion to Bagan temples is always part of the program. You may want to ask: is it really necessary to do it again after the cruise? The answer is YES.
Most excursions to Bagan are fairly easy: only a handful of classic ones are visited while they are prone to be crowded with fellow cruise makers at the same time. The massiveness of Bagan definitely calls for a thorough visit of at least 2 full days.
Meeting in the halfway, you may consider visiting Bagan overland pre-cruise and join the sunset boating near Bagan: slowly weaving along the riverbank lined with smaller, less-visited by road pagodas can be a real bonus.
Living On-board
The cruise junks are mostly wood or wood-metal structure in traditional Burmese style. The main difference between them and cruises in Europe or other big rivers internationally is that the former have a pretty shallow draft and lighter in weight. This has to do with the very nature of the Irrawaddy River that changes in seasons.
Cabins/staterooms feature with private balcony, bathroom but in-room WiFi is pretty rare. Meals are served in the main hall that is used for both dining, entertainment, and gathering. Some bigger cruises will have a spa center or a business corner, too.
Meals onboard are basically vegetables, chicken, beef and lots of fresh catches from the river. Special diet menus are available upon request. However, if you are traveling with young children, it's better to bring some of their favorite food; noodles and cakes onboard can be good, too. Water is free of charge, but you may need to pay for soft drinks and wines.
Most cruises don't have a doctor or any medical services onboard. Bring your own medications if possible.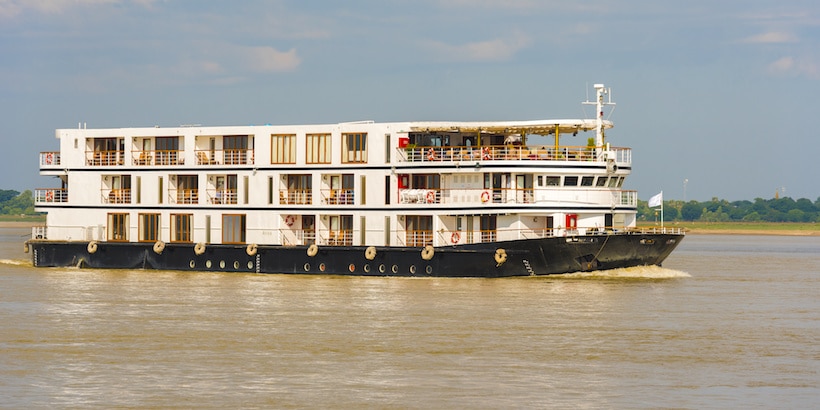 Dress Code & Tipping
For overnight cruise (either one-night or multiple nights), there will be some celebrations or onboard parties, at which smart casual is the primary dress code. Other time, all rules apply for clothing. However, keep in mind that Burmese are pretty modest and it's important not to reveal too much skin, especially in public gatherings or at religious sites.
Cruise packages cover all the cost of your onboard living. That being said, small tipping to the guides or crew is still encouraged. USD5 to 10 per day should be enough. Some small gifts are welcome, too.
Respect Local Cultures and Protect the Irrawaddy River
Throughout the journey, you will be stepping onto possibly the most laid-back lands of Myanmar. It's important to be religiously and culturally sensitive. If you want to bring some presents to the locals, books, clothes, some useful daily items would be much better than candy, snacks, and plastic-wrapped stuff. Usually, we'd encourage our guests to use as little as disposable tableware as possible, in order to reduce pollution both on the water and farmland.
Start Planning Your Trip to Myanmar
Contact an expert in Myanmar that will support you 1-1 from the initial chat, itinerary design, and even on the trip.