Old Bagan has the best access to the temples
With three major towns kilometers away from each other, hotels and restaurants are thrown around the plains. Old Bagan is more upmarket, New Bagan caters for big groups and budget stays can be found in Nyaung U.
Why You'll Love Old Bagan …
Most of your time will be exploring the temples, why not choose the closest region to stay?
Hotels blend themselves with Bagan temple views and boutique-scale ensures a quiet stay.
Not many new hotels are being built in recent years, the ones you see here all have years of experiences serving western markets.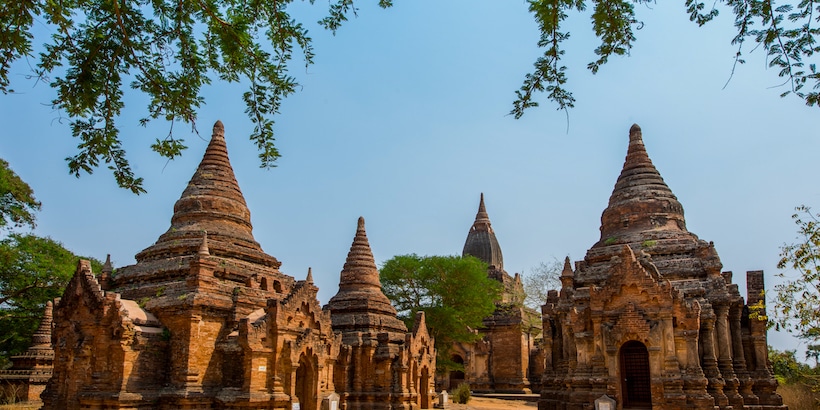 Different Strokes for Different Folks
Some might not know that Bagan is not actually a region but a vast plain that is spilt into three divisions: Nyaung U to the northeast, Old Bagan (also where the temples are) to the northwest and New Bagan to the southwest.
Nyaung U is a transportation and commercial hub for the locals and boasts for many budget-friendly hotels and guesthouses. This is where the action is, both for local Burmese and international backpackers. You may consider it as Patong Beach in Phuket if it helps.
New Bagan is a new settlement that bigger hotels of more than 50 rooms and a parking lot, which are often fully booked by big groups during the peak season or domestic travelers on expedition trips. Everything is new and modern and it might be a bummer if you'd like something Bagan-y.
Land for construction in Old Bagan is extremely limited. So the hoteliers go for boutique style and upmarket travelers who appreciate a cold drink with a sunset view over the pagodas. Beautifully-decorated rooms, good international breakfast, swimming pool and spa center, just everything one can ask for a lavish vacation.
Hotel Options for Different Tastes
Upmarket Travelers: Old Bagan
When referred as upmarket travelers, it doesn't necessarily mean luxury. That Bagan's hotel prices being higher than other destinations oftentimes disables the star-ranking system. Upmarket travelers are those who appreciate tranquil and personal services and would probably be looking for 4-star or boutique hotels in the Old Bagan area.
Gatsby's Recommendation: The Hotel @ Tharabar Gate, Bagan Hotel River View, Aureum Palace Hotel & Resort Bagan, Bagan Thiripyitsaya Sanctuary Resort, Bagan Thande
Budget Travelers: Nyaung U
While being very budget-friendly, hotels or guesthouses in Nyaung U actually offer more than what you pay for. Relatively smaller rooms, standard amenities and a few steps away to the bustling Nyaung U town. And friendly service is always the case in Bagan. Price around USD40 to 60, a pretty sweet choice, isn't it?
Gatsby's Recommendation: Oasis Hotel, Bagan Star Hotel, Thante Hotel, Royal Aykare Lodge, Sky View Hotel, Amazing Bagan Resort, Zfreeti Hotel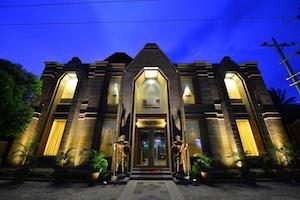 Families with Kids: New Bagan or Nyaung U
More hotels with family rooms and family-friendly facilities (eg. kid-friendly menu, babysitting services etc) are spreading over New Bagan; a handful in Nyaung U, too. Free extra bed or free stay is the way to welcome more bookings, ideal for families of more than 4 in triple room or quad room. There is always a swimming pool to keep the kids entertained.
Gatsby's Recommendation: Crown Prince Hotel, Bagan Lodge, Hotel Sincere Smile Bagan, Northern Breeze Hotel, Thante Hotel, Arthawka Hotel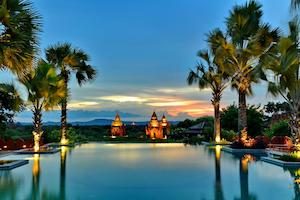 Romantic Trips: Old Bagan or Nyaung U
Choosing Bagan as a romantic destination attests to the love birds' expectation for both exotic atmosphere and intimacy. If you have been griming the tour budget, there's no reason not to indulge a little bit in Old Bagan. Book a suite at a boutique resort and just chill out with a drink. Some great deals can be scooped in Nyaung U, too; plus many restaurants around.
Gatsby's Recommendation: Aureum Palace Hotel & Resort, Aye Yar River View Resort, Myanmar Treasure Resort Bagan, Royal Palace Hotel, Heritage Bagan Hotel
Photographers: Nyaung U
Bagan doesn't really have photographer-oriented hotels even though they come in a huge flow. Most of them would spend a lot of time in the early morning and sunset, probably come back for an afternoon nap when the sun is too bright to shoot. Good value for a place to sleep and easy to get around might be the rule of thumbs, which are met in Nyaung U.
Gatsby's Recommendation: Zfreeti Hotel, Bagan Star Hotel, Sky View Hotel, Amazing Hotel Bagan, The Hotel Bagan Umbra, Hotel Zein
Peak Season: New Bagan or Nyaung U
Bagan can be very crowded during the peak season of November to February and hotel prices go rocket high. If you'd like a quiet escape, go for some new hotels or specialty lodgings in New Bagan or Nyaung U, whose prices seem more steady and have more rooms in bigger footage. Nevertheless, regardless where you are staying, it's always wiser to book at least two months ahead.
Gatsby's Recommendation: Amata Garden Resort Bagan, Ruby True Hotel, Hotel Yadanarbon Bagan, Bawga Theiddhi Hotel, The Regency Hotel (Nyaung Oo)
One thing to bear in mind is that no matter how long you plan to stay in Bagan, a nice place to relax and recharge during exploration over the hot and dry central zone is crucial. Among all the hotels, resorts and guesthouses in Bagan, you can use our experiences to make the right decision. Talk to us and find out more!
Start Planning Your Trip to Myanmar
Contact an expert in Myanmar that will support you 1-1 from the initial chat, itinerary design, and even on the trip.