Make the most of 24 hours in Yangon
Started out as a fishing village by the Yangon River and then Myanmar's capital for a long time, Yangon is truly fascinating. There's no other places than Yangon to be awed at the country's cultures and lifestyles, which can all be seen within 24 hours.
Highlights You Shouldn't Miss
Sunset at Shwedagon Pagoda tops it all. It's a good place to gawk over locals during their daily worship and nice introduction to traditional Burmese temples.
Touch this city in a different approach, you have the option of a fun ride on Yangon Circular Train. Putting yourself in a slow-motion movie of Yangon's daily life.
Some traditions are fading as the city grows out. Old-fashioned lifestyles can only be seen by a visit to the local markets.
Influenced by Thai, Indian and Chinese cuisines, Burmese food is a surprisingly delicious outlook to the city's mixed cultures.
3 Ways to Explore Yangon
By change of transportation means can one see Yangon from different angles and make the most of your time. Here's how it works.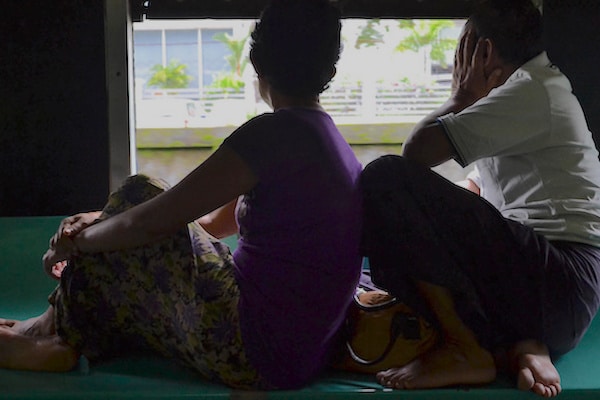 Circular Train Ride
The Yangon train (Yangon City Circular Train) has become a hyped must-do recently. This is a local train, not a tourist train. Although it goes pretty slow, it's still a good approach to see the cityscape changing from countryside to a rising metropolis within a couple of hours. People watching and local markets along the way boost up the fun.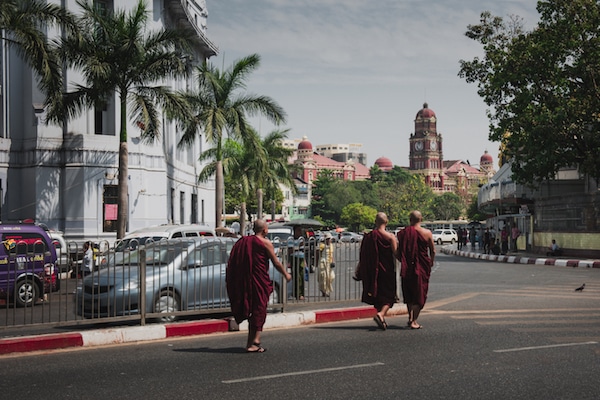 Private Car
Unlike Bangkok with crazy traffic jams, traveling on a private car in Yangon actually saves you some time. Besides, most major attractions that are located together in the downtown area; it is easy to do half-day city highlights with temples, museums, and markets, plus a further ride to the Yangon River for a sunset boat ride.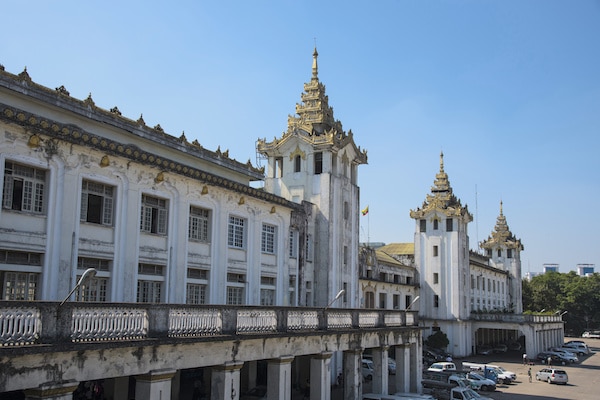 Walking
If you are into historical sites and street photography, you should definitely take a walking tour in Yangon. Discover the untold stories behind those colonial buildings, miggle with locals at Scott Market. After a noon break, capture some lively pictures along Yangon's streets and end up the day with a stop at Shwedagon Pagoda at sunset.
Suggested Itineraries for One Day in Yangon
Normally our guests would spare one day or two to check out Yangon's major attractions. Here comes the 1-day itinerary that you see on a great number of travel websites. Yes, those are perfectly workable and good for almost all travelers. Nevertheless, the urges of Yangon's visitors to scoop something unique out seems to be a trendy. Here's two itineraries that might make a difference. 
Features: Itinerary for all
Physical Demanding: Normal, with some walking of less than 2 hours
Detailed Itinerary:
0700am: Transfer to Yangon Central Station and board the circular train. The one-hour train ride takes you from the outsirkt to downtown, providing changing views and chances to talk to locals on their commute.
0830am: Transfer back to your hotel for a proper breakfast and take a short break.
0930am: Step into the National Museum to learn more about the country's history and cultures.
1030am: Take a stroll in a local market in downtown.
1130am: Enjoy a nice lunch served at Rangon Tea House, a cool place to try out Burmese delicacies and local arts.
0100pm: Get back to your hotel for a noon break, which you will definitely need during a hot day.
0230pm: Visit the Sule Pagoda at the heart of the city and learn about its standing as an important rally in some historical events.
0330pm: A nice English high tea is set for you at The Strand's, one of the oldest and most famous hotels in Yangon.
0430pm: Approach to the gleaming Shwedagon Pagoda. The last ray casts magical shadow on the temple ground where hundreds of locals are paying their daily worship.
0600pm: Take a sunset cruise on the Yangon River and return to your hotel before 0800pm.
Features: Photgraphy, Walking
Physical Demanding: Hard, with walking of 4 hours in total
Detailed Itinerary:
0600am: Rise and shine! Start out with your gear to Yangon Central Station and board the train ride. During the one-hour ride, you will capture interesting live scences of locals' daily life. Followed by a walk at a nearby local restaurant after the train stops at downtown Yangon.
0900am: Return to your hotel and recharge yourself with a great breakfast and short break.
1000am: Start out again for some nice street photography in Yangon's hidden alleys and narrow streets. Proceed to the historical Colonial District.
1230pm: Enjoy a buffet lunch at Shangri-La Sule and return to your hotel. A noon nap keeps you away from the mid-day sun.
0200pm: More photography chances await! Your tour guide will take you to some local markets, streets or old temples that are less-visited and truly worthwhile for photographers.
0400pm: Time to set up your tripod for the landmark: Shwedagon Pagoda. We have some nice angles that get you to the pagoda's best side in lighting. Visit the temple itself can be fun too as you get to see how locals practice their faith.
0600pm: There is a nice restaurant by Shwedagon Pagoda, featuring illuminated view of the pagoda at night. Enjoy a nice dinner before returning back to your hotel.
One Day and a Half, Half Day - More Options For You
Now you've learnt about how to kill an entire day in Yangon, which is pretty easy once you've decided what your prority is. Let's see if we can mix and match for more options.
One and a Half Day: Yangon City & Outskirt
Day-01
0900am: Visit U Thant House and learn about his contribution for world peace.
1000am: Step into the National Museum where a rich collection of historical and modern items showcasing the country's pass.
1130am: Enjoy a nice buffet lunch at Shangri-La Sule.
0100pm: Visit Sule Pagoda. Sitting right at the city center, this temple used to witness lots of historical events.
0200pm: Stroll around the Colonial District and relax with an English high teat at The Strand's.
0430pm: Pay a visit to Yangon's landmark: Shwedagon Pagoda at a beautiful sunset.
0600pm: Return to your hotel.
Day-02
0700am: Get up early and take a fun ride on Yangon Circular Train.
0830am: The train reaches a local market, a relaxing and interesting walk through the stalls is in order.
1000am: Drive by Aung San Suu Kyi's house and learn about her struggle for Myanmar's future.
1100am: Enjoy some traditional Burmese food at Rangon Tea House.
1230pm: Return to your hotel.
Half Day: Yangon's Best
* Either morning or afternoon, sightseeing order is subject to change.
0600am: Get up early and join the locals at Shwedagon Pagoda during their morning rituals.
0730am: Return to hotel and have breakfast.
0830am: Set out again for a fun ride on Yangon Circular Train. The 1-hour ride ends at a local market.
1000am: Visit the National Museum and get better understanding about the country.
1100am: Treat yourself with a nice lunch at Rangon Tea House.
1200pm: Return back to your hotel.
If you only have one day in Yangon, it's better to leave some time between all the planned activities rather than jamming up your timetable. Its diversity deserves better reading and that's also the only way that you see it for real. Chat with our team for more ideas about how to plan your day in Yangon.
Start Planning Your Trip to Myanmar
Contact an expert in Myanmar that will support you 1-1 from the initial chat, itinerary design, and even on the trip.