5 Best Ngapali Beach Hotels
Ideal places to make the best of Ngapali Beach
Located on the coast facing the Bay of Bengal, Ngapali Beach boasts for long-stretch sandy beach lined with palm trees and crystal-clear water good for a cool dip. We have 5 best picks for you to make it a perfect beach holiday.
Why You'll Love Our Ngapali Beach Hotels...
All of the hotels and resorts in our selection are ideally located on the beach.
From international brands to local boutique properties, these hotels enjoy a good reputation among those with a refined taste for leisure holiday in modest luxury.
Ngapali Beach is the best choice for first-timers and we have different choices for specific tastes., all at great prices, too.
Locals live mainly on fishing some hotels hire and train local youngsters; your stay will contribute to helping the local communities.
Gatsby's 5 Picks for Your Beach Holiday in Ngapali
Among our picks of the best beaches in Myanmar (get the whole guide at  Best Beaches in Myanmar), Ngapali Beach is doubtlessly our favorite at all times. Our selection of the best hotels is not solely based on reviews, locations or prices. On the contrary, these factors are integrated into the main focus on different travel styles and interests: First-Time Encounter, Family Trip, Luxury Stay, Budget-Friendly, and Romantic Getaway. What you are looking for specifically is detailed in the features. Enjoy scrolling down!
First-Timers: Bayview - The Beach Resort
Let's face it: Myanmar's beach might not be the first thing that pops up in your head when it comes to spending some days under the tropical sun. Ngapali Beach's being unspoiled and remarkably quieter (compared to Thailand) makes the cut. For those who have settled on Ngapali, this nice boutique resort meets their needs for:
Beachfront: The beach portion is definitely superb: the central 1000-meter stretch of Ngapali's 7-km coastline, slightly tucked in and giant palm trees create cool shade on its soft, quiet and white-sandy beach.
Room of great comfort and value: Every and each of its 45 bungalows and rooms has private terrace and balcony either facing the garden or the ocean. Deluxe Room with Garden View is our pick for most first-timers; 48sqm / 516sqft on the ground floor of a lush tropical garden, room price starts from USD120 with breakfast included.
Special Offer: Their 4-day Ngapali Discovery offers free airport transfers, breakfast buffet, daily fruit basket, access to sports facilities and activities including bikes, kayaking, 3-course dinner on the beach, free trekking and sightseeing tours.
Dining & Leisure: Two on-site restaurants: Sunset Bar and The Catch, rated as superb food by many travelers. Big swimming pool, direct beach access, delicate spa services, and various activities to stay hyped during your stay.
For more information: Bayview - The Beach Resort.
| | |
| --- | --- |
| Beachfront Bungalows at Bayview | Spacious Suite at Bayview |
Luxury Stay: Ngapali Bay Villas & Spa
When it comes to luxury, however, Ngapali, or Myanmar overall, is somehow shy of options. Besides the common luxury brand of Hilton or local finest Aureum Palace, Ngapali Bay Villas & Spa aims for a more intimate experience with all its modern and state-of-art facilities. Just shred down your bars for utmost luxury for a tad, your stay where will be brimmed with unexpected delight that comes more from the services and surrounding, rather than the hard facilities.
Beachfront stay: Also featuring an extensive private beach, beachfront villas on the first line have only a few steps into the ocean. The British Architect, David Wordsworth has done a great job of blending the oceanic features into Burmese style, topping which is a touch of modern comfort.
Our room of favorite is Sea Front Villa with Plunge Pool. For those who enjoy intimacy and privacy, chilling out by the private plunge pool or relaxing up in the hot tub completes an awesome holiday. Room service, in-room DVD player, a sitting area decorated in marbles and sandstone brought from Yesagyo, Pakkoku District in central Myanmar, all catering to a relaxing stay only a bit shy of your home comfort.
Exclusive experiences: Multiple-night stay from 3 nights are offered with amazing packages such as private boat trips to the nearby island, special dinner or spa treatment. Their Traditional Myanmar Massage and Aromatherapy Wellbeing Massage are excellent reasons to waste your days away in an enchanting and relaxing atmosphere. There also have some delightful packages only for honeymooners.
Most travelers would stay here for at least three nights. If you get tired of sunbathing, just take on their biking adventures, hiking trips to isolated villages or trekking up to Arakan Mountains, at 3100 m (10,000 ft).
For more information: Ngapali Bay Villas & Spa.
| | |
| --- | --- |
| Plunge pool facing the ocean | Beautiful Room of Ngapali Bay Villas and Spa |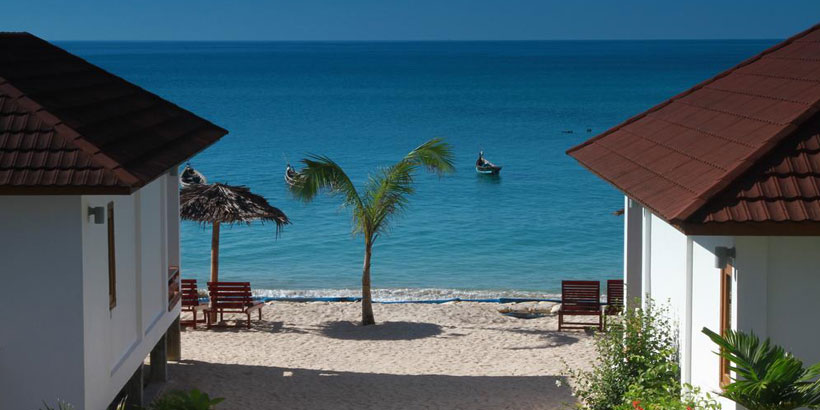 Budget-Friendly: Ngapali Bay Villas & Spa
Although Ngapali Beach is welcoming more and more upmarket travelers, it still has plenty of options for great-value stays. Budget-friendly accommodations range from family-run guesthouses to decent 3-star hotels; some specialty lodgings also make the cut. We'd suggest Ngapali Paradise Hotel. This newly-built 3-star hotel picks a tranquil corner of the beach and all the white-walled buildings all face the ocean.
Great-value stay: This hotel is not selling itself for the private beach section, which, however, is truly beautiful. The biggest draw lies its combination of cozy rooms, ocean view, close distance to the airport (just 10 minutes of walking!), and room price starting from USD75 per night. No wonder many travelers would spend a week there.
The room: The room has pretty much everything that you need for a good night: soft bed, view of the ocean, quiet, fully-equipped bathroom and living room, and a private balcony to chill with a cold drink (they have fridges in every room). Also, it allows one free extra bed in every room for children under 12 years old.
Walking around: As this hotel is great for long stay, travelers would love to walk around the neighborhood. Within 10 minutes of walking, you can find some great places to eat: 3 Pots Restaurant, K2 Restaurant and many food stands at the Ngapali Market. The lovely Ma Zin Village makes a fun half-day visit, too.
For more information: Ngapali Paradise Hotel.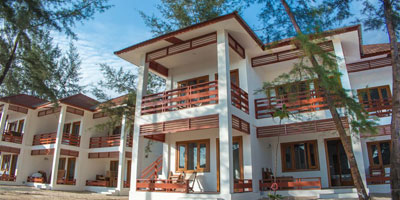 Surrounding of Ngapali Paradise Hotel

Chill out on the balcony with a cold drink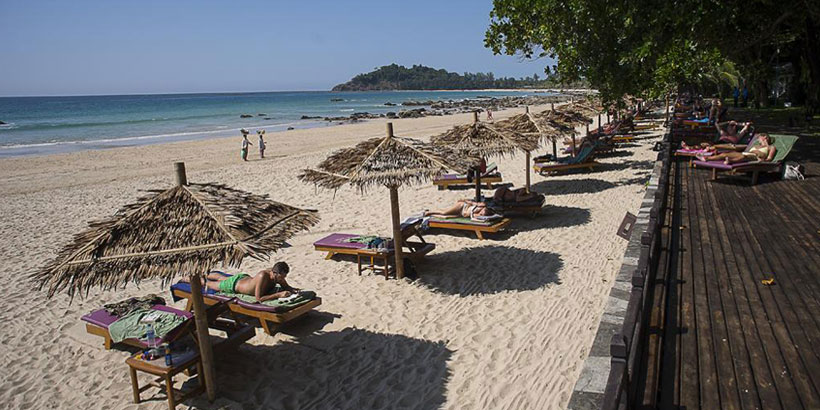 Family: The Thande Hotel - Ngapali
While Ngapali Beach is more of a choice for nature lovers or those who prefer tranquilness, families would also have a blast here. For families of 3 or 4, The Thande Hotel -- Ngapali, is an ideal value winner. This new hotel saw its first family vacationers back in 2017 and it's keeping up with catering for families with its wholesome services: spacious room, reasonable price for extra bed or even better two separate rooms connected for the kids and adults, plenty things to do, and overall awesome value for money.
Good-looking bills: Children under 12 years old can share one bed with one adult. For families of 3, it's possible to take up only one room; for 4 or more, getting two or three connecting rooms wouldn't cost much, either. Room footage of 46sqm / 495sqft and up is ample enough for families with a lot of luggage; seating area and private balcony pumps up the stay. Room prices (including extra bed) start from USD80, which is quite a great deal for family trips.
Round-trip airport shuttle transfer is offered free of charge, which takes about 20 minutes for one-way. Ironing and laundry services are charged at a low price. Their lush garden is nice to walk around and the garden view room has better soundproofing, which might be great for little babies.
Dining & leisure: The on-site restaurant Restaurant has a wide selection of local, international, Asian, and seafood, either in set-menu or a-la-carte; kiddie meals are available, too, offering noodles, ice cream, fruit yogurt, pancakes, and simple western food. Most travelers rate their breakfast as fabulous.
The hotel owns a fairly shallow bay that is good for the first dipping for your kids. To keep your kids entertained, the hotel offers bike rental, fishing, snorkeling and children-friendly TV channels and babysitting services would give you some time for your own -- time to relax at their top-notch spa center. Or, arrange a family BBQ party on the beach.
Walking around: Taking your family out? You can go to the nearby restaurants including Best Friend and Smile, both are within 10 minutes of walking and offer very decent seafood. Check out the Jaktaw Market to learn about the fishermen's morning catches or go hiking up the Maday Mountain that is only 2km away.
For more information: The Thande Hotel -- Ngapali.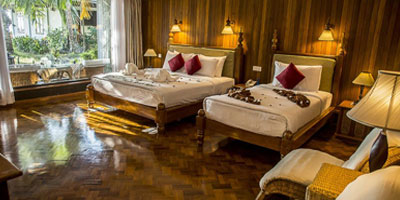 Deluxe Garden View Room with one extra bed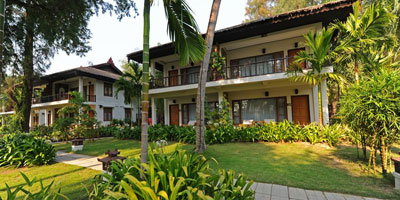 Chill out on the balcony with a cold drink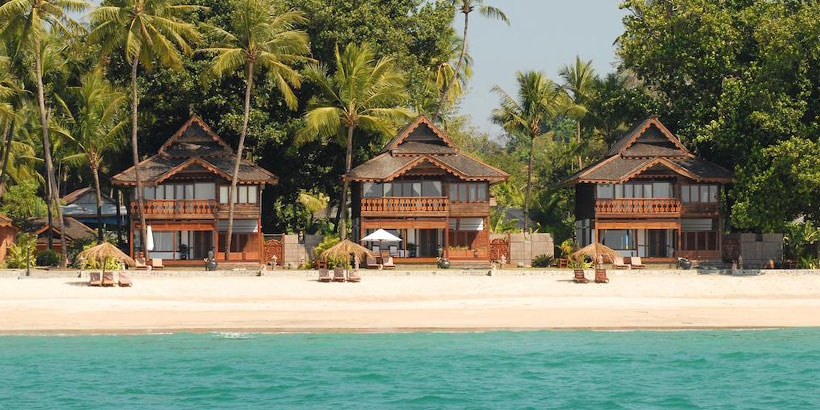 Romantic: Amazing Ngapali Resort
Amazing Ngapali Resort is definitely not the most luxury property in Ngapali, that's for sure. Nevertheless, if you have chosen this resort for your honeymoon or romantic getaway, you will fall in love its surrounding, services, and mostly the delightful special packages presented exclusively for love birds. "A taste of paradise", this is what this up-and-coming local brand is going for, which is evident in the details: quiet rooms, beachfront suites, great spa facilities, and special arrangements for couples on a romantic escape. For a special holiday, you would love all these features:
Awesome romantic packages: For foreign honeymooners, the hotel would offer some wonderful packages such as all-inclusive services for stay of 3 nights and up, which will include free flight from Yangon, free airport shuttle transfer, special dinner on the beach, and couple massage.
The room: Our pick for love birds goes to Beachfront Suite, 62sqm / 667sqft big room with private balcony facing the ocean, romantically-decorated, in-room coffee maker, and nice bathroom with a big hot tub.
Just chill out: Besides chilling out on your private balcony with seasonal fruits or a nice cocktail, you can also enjoy exciting water sports, cycling, golfing, and BBQ on request. Getting out of the hotel, you will enjoy a relaxing walk around the peaceful village, exploring the market or get a bite of fresh catch from the ocean. Pampering yourselves with some aromatherapy or traditional Burmese massage is also a pleasant reason to waste your days.
For more information: Amazing Ngapali Resort.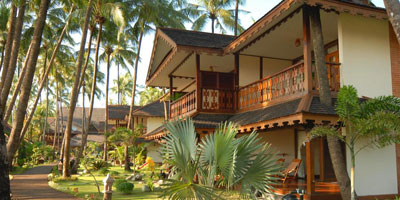 Verdant garden of Amazing Ngapali Resort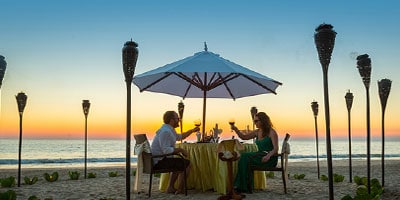 Candle-lit dinner on the beach
Start Planning Your Trip to Myanmar
Contact an expert in Myanmar that will support you 1-1 from the initial chat, itinerary design, and even on the trip.