Myanmar Trip with Kengtung
Explore the less-touched areas and meet lovely people
Myanmar has a huge fan base for trekking trails around its mountainous areas. Shan State is doubtlessly the best destination. Straying slightly off the main roads, you will be trekking through jungles and hill tribes to see more than you'd expect.
Why You'll Love This Trip
See the best of Myanmar in Mandalay, Bagan, Inle Lake, and Yangon; plus some off-the-beaten-track experience in Kengtung.
Professionally-arranged guided trekking to remote areas in Shan State, saving great trouble.
Encounter ethnic tribal groups homes and plantations.
Homestay, or lodge, while enjoying a trek that is suitable for most regular walkers.
15-Day Grand Myanmar Trip with Kengtung Trekking
Kengtung is easily reachable for border-crossing travelers from Thailand. However, trekking to Kengtung and further requires professional arrangement by travel agents. This 15-day itinerary showcases the best sights of Myanmar with an expectional trekking experience to Kengtung. Kengtung trekking is flexible and it can be woven into any trip to Mandalay and Inle Lake.
Reach the ancient capital of Mandalay. Our private tour guide and driver will greet you with the warmest smile. Transfer to hotel and free at leisure.
Gatsby Tips:
Gatsby's hotel choice: Mercure Mandalay Hill Resort, great rooms with views of the city and Mandalay Hill, wide selection for breakfast and easy to get around.
Travelers can apply for their Myanmar visa and get it within 1 to 3 days while they are in Bangkok. For more information, please refer to How to Get Your Myanmar Visa.
If you are entering Myanmar from Thailand, you may take a flight from Chiang Mai to Mandalay.
The history of Mandalay is the history of Buddhism spreading all over the ancient Burma. Today you will get under the skin of Mandalay's history as a prominent Buddhism academy.
After breakfast, we will drive out of town to reach Mahagandayon Monastery. Stop by some villages along the way and you will reach the monastery just in time for the monks' lunch.
After lunch at a riverside restaurant, you will take an ox cart ride in the ancient city of Mingun. Here you will visit the gigantic Mingun Pagoda, which was supposed to be the largest pagoda if it were every finished. Not far away, you will see the beautiful white pagoda Hsinbyume Pagoda.
In the afternoon, you will be on the way back to Mandalay. Stop by Amarapura and visit the longest teak wood bridge U Bein Bridge and enjoy a boat ride at sunset.
Gatsby Tips:
Taking photos or making videos at Mahagandayon Monastery is ok but please don't disturb their dining. You may have a chance to help out locals dispatching the food.
There are some huge gaps between the wood bars on the U Bein Bridge, which might be dangerous for kids to go across.
Enjoy a free morning in Mandalay.
In the afternoon, you will take a flight to Kengtung in Shan State. Check in hotel and explore the town with your local tour guide.
Gatsby Tips:
Gatsby's hotel choice: Amazing Kengtong Resort, one of the a few decent hotels in town. Recently re-decorated and upgraded, this lovely resort offers relaxing experience in a garden setting.
Flights from Mandalay to Kengtong on Tuesdays and Thursdays make stops at Tachileik and you will likely arrive in late afternoon. No activity arranged after arrival but your tour guide will accompany you if you feel like getting around.
Start today with an interesting visit at Kengtung Central Market where ethnic minorities gather and trade their home products. Have some simple Shan food for lunch before the afternoon trek.
Walking uphill for 2 to 3 hours, you will reach Ho Chin Village, home to the Akha and Lahu people. Explore their houses in unique styles and enjoy a cup of tea with one Lahu family.
Return to Kengtung for a restful night.
Early in morning, trading at the water buffalo market near Pin Tauk Village is already firery. Check out how the locals bargin for the cattle. This is the major market for the Akha and Enn people living the nearby hill tribes and they usually wear their finest on the market days.
After a simple lunch, you will be on a 3-hour trek through the lush forest trail to a Palaung village. The Palaung people are known for their traditional long houses that can accommodate up to seven families of different generations.
Your trek will continue on the beautiful Shan mountain range lined with tea plantations. By the evening, ou will have a simple yet fresh dinner with a Palaung family before returning back to Kengtung.
Embrace a delightful morning in Kengtung.
Today you will visit an interesting monastery that is shaped like a giant boat, Dhat Zoam Doi Monastery. As monks and novices see less travelers here, they might be shy but you can still try to chat with them.
After lunch, you will take a flight to Bagan, possibly with a stop in Mandalay or Yangon.
Arrive in Bagan in late afternoon and check in hotel.
Gatsby Tips:
Gatsby's hotel choice: The Hotel @ Therabar Gate with big swimming pool, easiest access to Bagan temple complex and beautiful Deluxe Room for your stay.
There's no direct flights between Bagan and Kengtung and you will likely arrive in Bagan by the evening. You can take a night visit to the pagoda zone if time allows.
As one of the best things to do in Bagan, a hot balloon flight brings you a lifetime experience. Please let us know if you'd like to include it. For another option, you can take an e-bike to one of the best viewing points to watch the balloons flying over Bagan's pagodas in the morning mist.
Return to your hotel for breakfast and a short break.
Set out again to Minnathu Village to meet some of our local friends. They will introduce you to a bunch of old crafts such as making stone mills, ox carts and extracting sesame and peanut oil. Sit down with a cup of Burma tea at a local house; chat with the family and exchange interesting stories.
After a simple lunch at a nearby restaurant, you will get to Nyaung U and visit the original inspiration for Yangon's Shwedagon Pagoda: Shwezigon Pagoda and check out Nyaung U Market.
When the night approaches, you will be rowing along the river to see the sun sinking down behind a line of pagodas. Enter the archaeological zone after dark to visit some illuminated pagodas such as Dhammayangyi Temple, Sulamani Temple, Ananda Temple and etc.
Gatsby Tips:
Balloon flight is only operated during October to March and booking shall be made at least one month ahead. For more information, please refer to our article An Ultimate Guide to Balloon Flights in Bagan.
The night visit will last for 3 hours and you will be back by 0800pm. Of course, you can stay longer or shorter if you prefer.
Enjoy the morning in Bagan free at leisure. Take a mid-day flight to Heho, the airport town of Inle Lake. Transfer to your hotel by the lake. Free at leisure for the rest of today.
Gatsby Tips:
Gatsby's hotel choice: Inle Princess Resort set in a beautiful garden, featuring with exquisite Lake Houses facing directly to the peaceful lake.
There are some young hoteliers in Inle Lake who are dedicated their income and time in protecting the lake. We will take you to one of their eco projects if you are interested.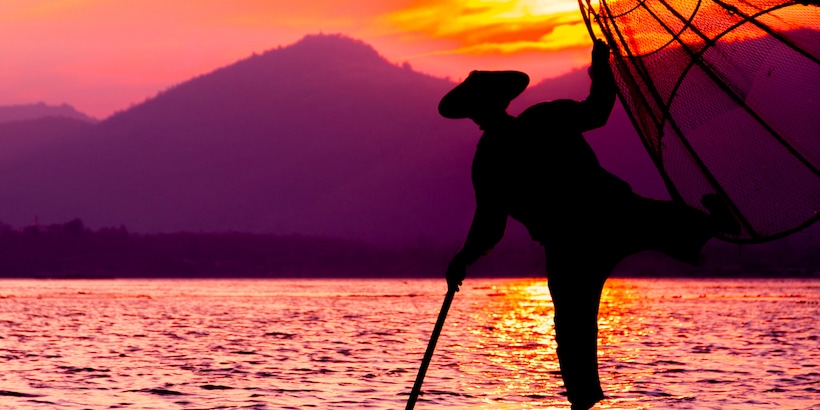 Although you are entitled to get up late on a vacation, you wouldn't want to miss the bustling market event known as 5-Day Market, right? There are 5 biggest villages around Inle Lake and they hold markets on a 5-day rotation. This morning, you will be riding on a private boat to one of the markets.
Unlike other onland villages, floating villages around Inle Lake have their market days in a 5-day rotation at different locations. Which village could it be today? Your tour guide will take you to the floating market by a long-tail boat.
While your boat is weaving through the waterways, you will pass by lush floating gardens and your guide will explain how they grow all kinds of vegetables overwater.
Enjoy a nice lunch at a floating restaurant overlooking the busy traffic on the lake. Later, step into a Karen house where the hostess will show you her skills of weaving lotus fibers. The Karen and some Kachin people are originally from Thailand and they practice Christianity instead of Buddhism. Learn about their daily life with an interesting conversation.
By the evening, your boat will take you back to your hotel, while some fishermen are finishing up their last cast of the day. Take some great photos of their unqiue rowing position.
Saying goodbye to lovely Inle Lake and you will fly to the former capital of Myanmar: Yangon.
On the way from the airport to your hotel, you will stop by Aung San Suu Kyi's House and learn about her life devoted to Myanmar's decomercy.
Gatsby Tips:
Gatsby's hotel choice: Sule Shangri-La Yangon, right at the heart of the city and minutes of walk to some major sites.
The afternoon flight from Heho to Yangon is subject to change to a morning flight.
You can probably say that we leave the best for the last. Your day in Yangon brings you something different: a morning ride on Asia's last circular train system Yangon Circular Train gets you intriguing outlook to the city and its outsirkts.
After riding for one hour, get off and visit the notorious Insein Prison. During the military junta's regime back in 1988 - 2011, this prison used to be a living hell for political dissidents.
Go to lunch at a local restaurant before you visit U Thant House.
In the afternoon, take a walk at Colonial District lined with a great number of Baroque-style buildings. Take a break with an afternoon high tea at The Strand's Cafe, which used to be Rudyard Kipling's off-work hangout place.
Pay a visit at Yangon's landmark Shwedagon Pagoda at sunset. Finish today with a delicious dinner at a rooftop restaurant overlooking the entire city, a perfect ending to your trip in Myanmar.
Start Planning Your Trip to Myanmar
Contact an expert in Myanmar that will support you 1-1 from the initial chat, itinerary design, and even on the trip.