Myanmar's Best Trekking Destinations
5 best places to trek and what to expect
Highland British station of Kalaw, Mount Victoria, Hsipaw, Kyaing Tong and more ... trekking in Myanmar is the best way to get close to its lovely people. Find out your next trekking destination and how to get ready for it.
Why You'll Love Trekking in Myanmar
Myanmar has a heap of trekking trails in the untouched regions such as Chin State, northern Shan State and Kayah State.
There are 135 ethnic groups living in Myanmar, trekking is the best way to encounter and photograph their lifestyles.
Trekking in the mountainous areas, where the climate is milder and better for treks all year. It's a welcome break from the heat of Bagan and Yangon.
Guided trekking tours are becoming more and more popular, better to come before every village becomes more popular with tourists.
Top Trekking Destinations in Myanmar
Some remote areas have been under governmental control and off-limits to foreigners, including the once popular trails near the north Mount Victoria in Chin State. Here is a list of the best hiking destinations that are open for foreigners and some key information to help you plan a hiking trip to Myanmar.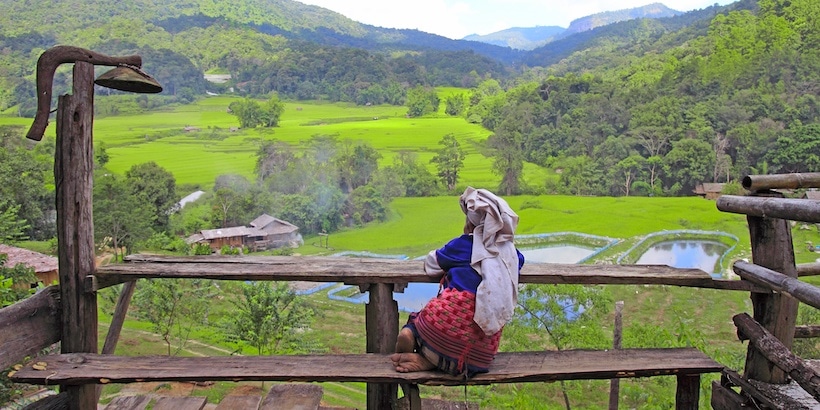 Kyaing Tung Area: For Beginners
Kyaing Tung or Kengtung, is located in the eastern part of Shan State, connected by air to Yangon, Heho and Mandalay. Trekking in Kyaing Tung is more about seeing colorful ethnic minority people and their culture, rather than the trekking trail views. For a couple of days there, it would offer you the chance to see remote local market visits and enjoy a soft mountainous treks. As a former summer retreat during the British rule, Kyaing Tung is also worth a visit.
Blending with Nat worship, Buddhism and Catholic among over 10 ethnic groups, Kyaing Tung trekking trip can be an interesting extension from Inle Lake or Mandalay. So far, border-crossing travelers from Thailand who want to stretch to Kyaing Tung after Tachileik must go by air, not by road. A travel permit is required for further traveling/trekking beyond Kyaing Tung but policy can change quickly. We last updated this part 22-Jan-2019.
Basic Info
Best Time: December to February
Get There: flights from Yangon, Heho and Mandalay within 2 hours, direct flights are not daily
Classic Route:3-Day around Kyaing Tung
Trekking Distance: 10 - 20km / 6.2 - 12.4mi every day
Physical Demanding: Low
Road Condition: Paved country trails
Accommodation: Hotels in Kyaing Tung Town
Permit Needed: No
Some of our previous guests included an extra leg to Kyaing Tung during their visit in Mandalay, which can be wrapped up with some relaxing days in Inle Lake. Be sure to check out our sample itinerary here > 15-Day Grand Myanmar Trip with Kengtung Trekking.
Hispaw: Unique yet Not Too Strenuous
Home to the last Shan prince Sao Kya Seng who married Austrian girl Inge Eberhard and the impressive Goteik Viaduct train track dating back to 1901, Hispaw offers a much off-the-beaten-track experience for trekkers. The humble town can be reached by train from Pwin Oo Lwin or Mandalay within 10 hours or a 6-hour road trip from Mandalay.
The trek is fairly easy, partly uphill walks to hill tribes and exploration at their tea plantations and overnight at a treehouse or a local monastery. The Shan, Paluang and Pao-O people demonstrate distinctive traditions and lifestyles and it is a total blast to check out their markets. Kyaukme, 40km from Hsipaw can be a starting point of your trek, which gets you into the jungle, waterfalls and hilltop villages within 3 days.
Basic Info
Best Time: November to March
Get There: 6 hours of road trip from Mandalay; 8 to 10 hours by train from either Pwin Oo Lwin or Mandalay through the Goteik Viaduct over the gorge
Classic Route:3-Day Kyaukme - Hispaw
Trekking Distance: 10 - 20km / 6.2 - 12.4mi every day
Physical Demanding: Normal
Road Condition: Country trails, jungle trails and uphill roads
Accommodation:Homestay in ethnic villages
Permit Needed: No
Less crowded than the Kalaw trek, Hsipaw is definitely a hidden gem for those who'd venture out of Mandalay on a more strenuous road trip. You might like to know there's a train ride there, talk to us and see how we can help.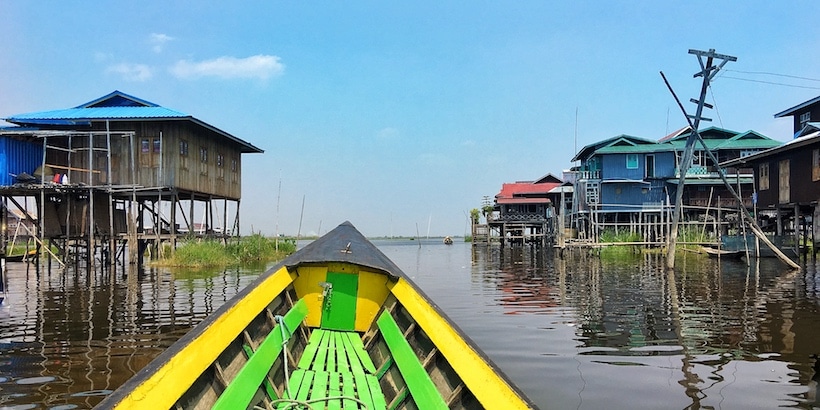 Kalaw Area in South Shan State: For Travelers in General
Thanks to its approximation to Inle Lake, Kalaw area tops the list. Kalaw was the high hill British station and there is an old train track running from Thazi in the west to Shwenyaung near Inle Lake. The experience of trekking for 3 to 5 days near Kalaw area consists of homestay in Shan villages (or maybe a local monastery), meeting ethnic minority people, trekking through farmlands, forests, natural reservoirs and some colonial old towns. Anybody with a moderate level of fitness can do it and accommodation standard is considered as the best among all the trekking destinations in Myanmar. However, don't expect luxury in this area, things are basic and acceptable.
Basic Info
Best Time: October to March
Get There: 1 hour by car from Heho airport and Inle Lake
Classic Route: 4-Day Kalaw - Pindaya - Inle Lake
Trekking Distance: 20km / 12.4mi every day
Physical Demanding: Average
Road Condition: Good, flat country trails and dirt roads with mild ascendence
Accommodation: Hotels in Kalaw and Pindaya, homestay along the mountain treks
Permit Needed: No
We'd suggest this route for most travelers on their first trip to Myanmar. Take a look at our 4-Day Kalaw trip for a great starting point for planning your trip with us.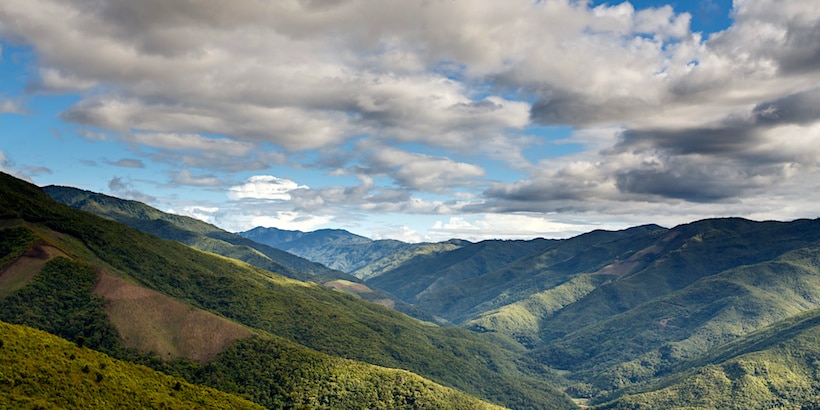 Mt. Victoria in Chin State: More for the Pros
The third highest mountain in Myanmar, Mount Victoria of 3180 meters or Ma Taung can be reached from Bagan by a 5-hour drive. There are two base towns, Kenpetlet and Mindat; Mindat is much closer to Bagan and you may continue the journey after an overnight there. Returning back either the same direction or going the other way to Kanpetlet, chances to spot rare birds and meet up with the Chin, Palaung and Aya people. Some will choose to boat down to Pakokku and pick up a drive from there to Mindat, too.
Basic Info
Best Time: November to April
Get There: 5 hours by car from Bagan; or 45-minute cruise to Pakukko and drive for 4 hours to Mindat
Classic Route: 4-Day Bagan - Mindat - Mt. Victoria - Kanpetlet - Bagan
Trekking Distance: 25 - 35km / 15.5 - 21.7mi every day
Physical Demanding: High
Road Condition: Mostly dirt roads, a lot of uphill trekking
Accommodation: Hotels in Mindat and Kanpetlet, homestay along the mountain treks
Permit Needed: No permit required except for further traveling to the north
Foreign travelers are not allowed to do the hike alone. We will arrange local guide and support car for you, check out our sample itinerary here: 4-Day Hiking Trip to Mt. Victoria.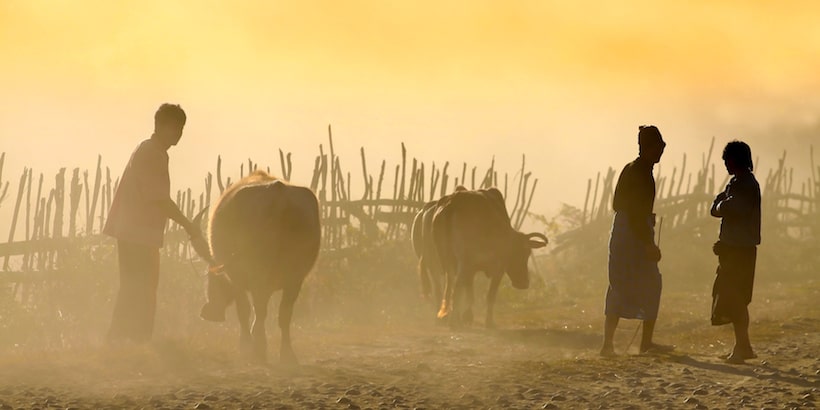 Putao and the Myanmar Himalaya: Adventurers' Next Target
The highest mountain range on earth that is the Himalaya bursts forth to the norther part of Myanmar in Kachin State, thus the famous Myanmar Himalaya in Putao region. While Putao itself lies in a lovely valley of only 457m / 1499ft altitude, a trek here is nothing but easy: high mountain trekking along the least trodden trails to the remotes villages, some of which are located over 3000m / 9842ft. Hakaborazi National Park and Poneganrazi National Park are the two bases in Putao, home to the least-climbed Hkakabo Razi at 5881m / 19294ft.
As Kachin State is considered as a restrict zone to foreigners, only by professional operation by travel agents can one put forth this lifetime adventure. The experience is superb. Be it the unspoiled nature, the last frontier village at an altitude of 1079m / 3540ft or camping in the wilderness, this trekking trail is worthy the reputation of "Top 50 treks of lifetime" by National Geography.
Basic Info
Best Time: November to May; most hotels are shut down from June to September
Get There: Direct flights from Myitkyina and Mandalay (Mandalay - Putao direct flight only on Monday, Thursday and Saturday) within 3 hours; Yangon - Putao flights make stops in Myitkyina, Bhamo or Mandalay within a total 4-hour journey
Classic Route:5-Day Putao - Mt. Shanguaung - Ziadum - Phongan Razi - Wasandum - Putao
Trekking Distance: 30km / 18.6mi every day
Physical Demanding: High
Road Condition: Snow-covered trails and dirt roads, a lot of uphill treks and high altitude
Accommodation: Hotels in Putao town, homestay along the trek
Permit Needed: Yes
Trekking in Putao is not for everybody but it would certainly reward you more than you can expect. Talk to our expert in Myanmar for a trip designed only for you.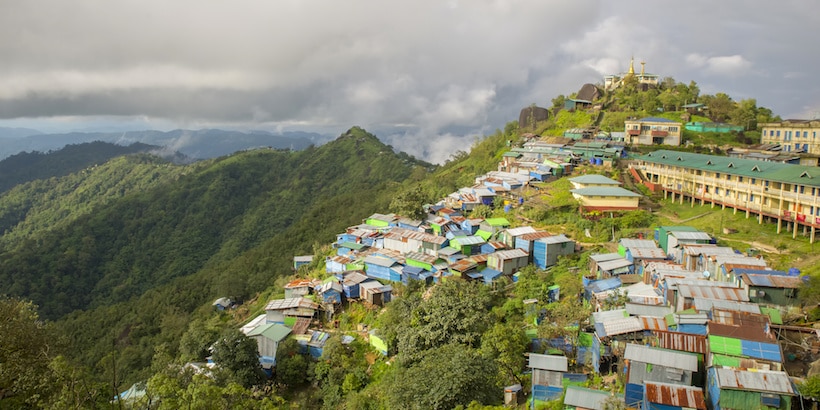 For sport-minded travelers, nothing can be more exciting than a trekking trip to this exotic land. The country has everything for different body-builds and focuses. With so much to look forward to, one should always be prepared both mentally and physically. Here are some tips to get started:
Learn about the weather: Although most trekking destinations are in the much cooler high mountains, weather can change quickly during the same day. Keep close look at the weather forecast before your travel.
Pack smart: For trekking, regardless the distance, you will need a good pair of light trekking shoes, waterproof and speed-dry coat, hats and some light inner clothes. During the dry season, which is always the best time to trek, early morning and night are cool while mid-day sun can still be scorching.
Homestay: There are chances for homestay at local houses or monasteries. They offer barely the basics: a bed and a shared bathroom that is normally non-western style. Most villages have limited hours of power supply so bring along a power bank to charge your devices. And a flashlight, too.
Food: It's likely you will have local Burmese food for a couple of days in a row, which is basically rice, curry, chicken and vegetables. Special dietary requirements. such as Kosher or Muslim, might not be accommodated. We will supply daily bottle water along the way.
Traveling with kids and seniors: Trekking in Myanmar can be tailor made to meet your needs. That being said, there are still some certain regions that are not so suitable for young kids or seniors with mobility difficulties. You may ask us for more information before planning.
Be culturally understanding: Encounter with different ethnic groups is great fun. However, please respect their lifestyles and relligions. For more information about dos and don'ts, please refer to our article: Dos and Don'ts in Myanmar.
Travel permits: Only a few trekking trips can be self-arranged but we strongly suggest you book through an agent who can ensure you all the safety and neccessary paperwork for the regions you are traveling to.
Transportation: To get to the starting points of the trekking trails, you might need to take trains, buses, private cars or boats. While the online booking system for public transportation is quite shabby, you may use our help and local resources to sort out the dot-connection. Nevertheless, we will always have support car during your trekking.
Maps and GPS: Don't rely too much on your digital maps or GPS as the internet equals to nothing in the remote areas. And some locations are actually off the map. Bring a compass instead.
Vaccinations: Trekking to the mountainous areas might expose you to certain diseases. For safety concern, you might need some guideline for vaccinations, check out our suggestion here: Vaccinations for Myanmar.
We have some experiences arranging trekking and hiking trips around Myanmar. The easiest way to start your planning is talking to our expert in Myanmar. Get started riight now!
Start Planning Your Trip to Myanmar
Contact an expert in Myanmar that will support you 1-1 from the initial chat, itinerary design, and even on the trip.